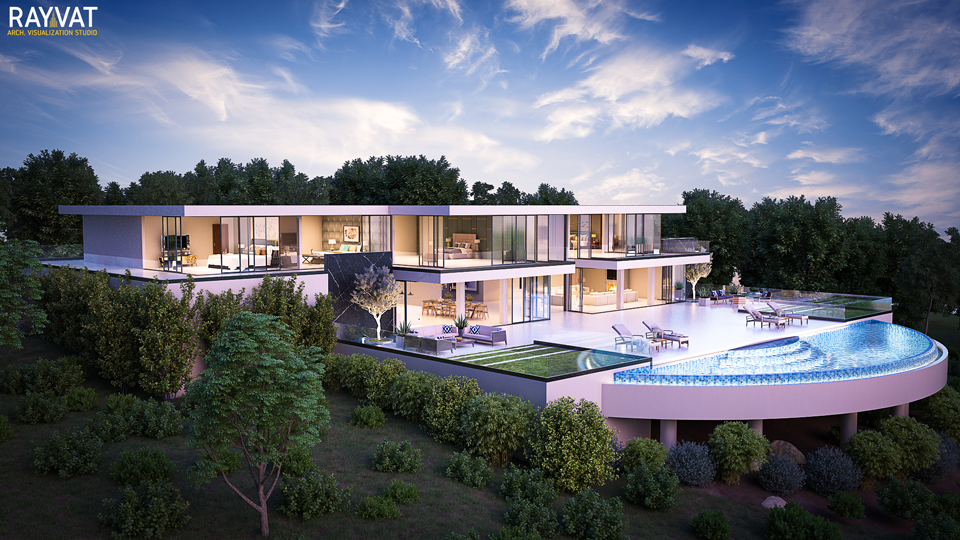 Breathe life into your Designs with 3D House Rendering
3D House Rendering (creating photo-realistic images), used to advantage, can make all the difference to your project. Whether you're an architect, a real estate agent, or a homeowner, having a well depicted 3D image can be an excellent presentation and visualization tool that will prove to be a game-changer.
This process creates hyper-realistic images in 3D from a 2D plan or drawing that showcases the various attributes of architectural design. 3D rendering experts use the latest software and modeling tools to simulate hyper-realistic imagery and animations.
As a leading provider of 3D Residential House Rendering Services, Rayvat Rendering Studio has been in the business of Architectural Visualization (3D Residential Renderings) for over a decade. Using the most advanced software available in the market today, we create 3D renders for architects, builders, developers, real estate marketing agents, as well as for homeowners themselves.
Benefits of 3D House Rendering Services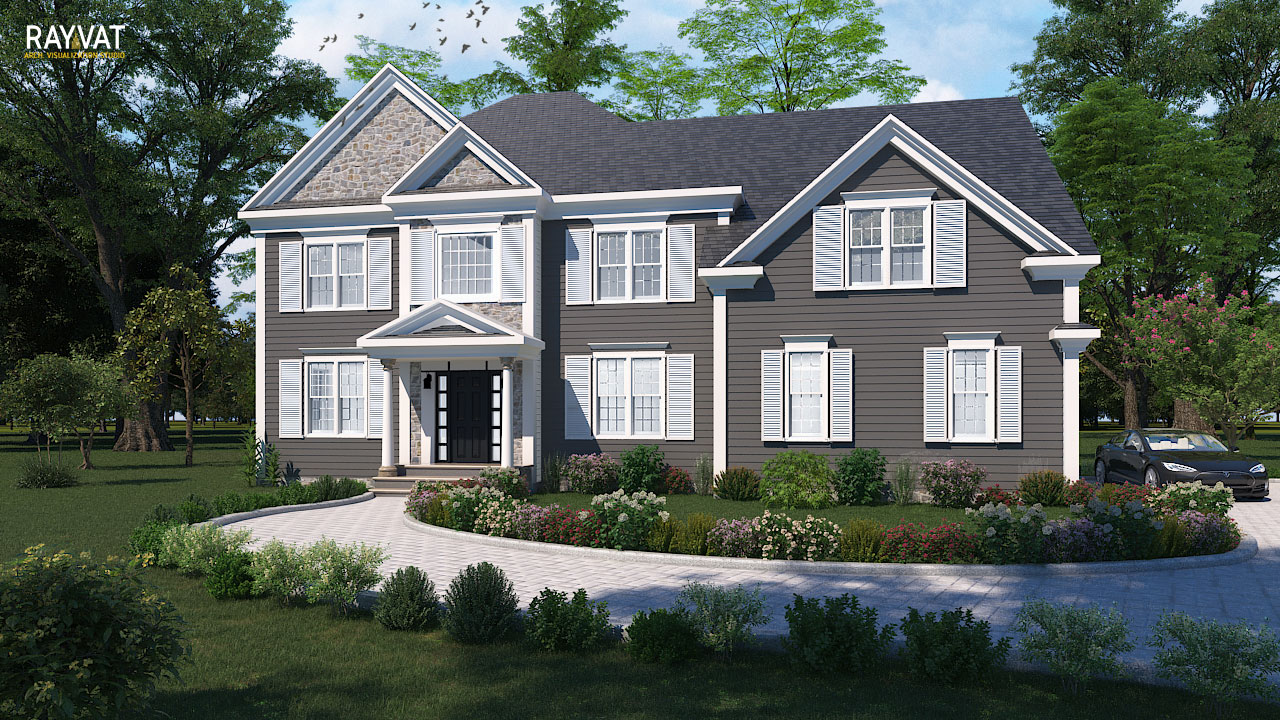 3D Home Rendering comes with a host of benefits. Developers and architects use these images to improve their presentations on the project with their clients, allowing greater communication and collaboration. Homeowners are looking for a visual of the unbuilt project, so they can see if it's what they would like to buy. For real estate professionals, it used as a marketing tool.
Basically, 3D Home Rendering services as a visual communication tool, breathing life into a 2D plan through technical and artistic expertise, and allowing a clear spatial understanding of what's going on. A 3D House Rendering can truly communicate the size, space, and proportions of your project to a high degree of precision.
As a marketing tool, if you combine House Rendering, Interior Rendering, and 3D House Virtual Tours, you can even completely do away with the need to build a model home. This translates to considerable savings in time, effort, and cost.
Today, 3D Modeling is very cost-efficient and readily available, and with the expertise of teams like Rayvat Rendering Studio, you stand to gain a lot!
Are There Any Benefits Before Construction Even Starts?
Yes, of course, and in most cases, 3D Rendering Images are requested before the actual construction. Prospective buyers can visualize the property in a comprehensive way, which helps to boost sales as well. Engineers can catch issues before they even arise at the site and fix any potential problems, thus saving time and money. When all stakeholders can visualize the results quickly, they can communicate better and work together more cohesively.
How is 3D Home Rendering Done?
There are typically three stages in a Residential Rendering.
Stage1: A skeleton 3D model is built from the 2D plan. We will share this with you so that you can decide on the camera angle you prefer.

Stage2: We add colors, material finishes, and textures to bring the image to life. You can give us photographs as references if you so wish.

Stage3: The final image rendering is done after you approve of the image at Stage 2. All your comments will be resolved, and you will be given the final high-resolution digital image.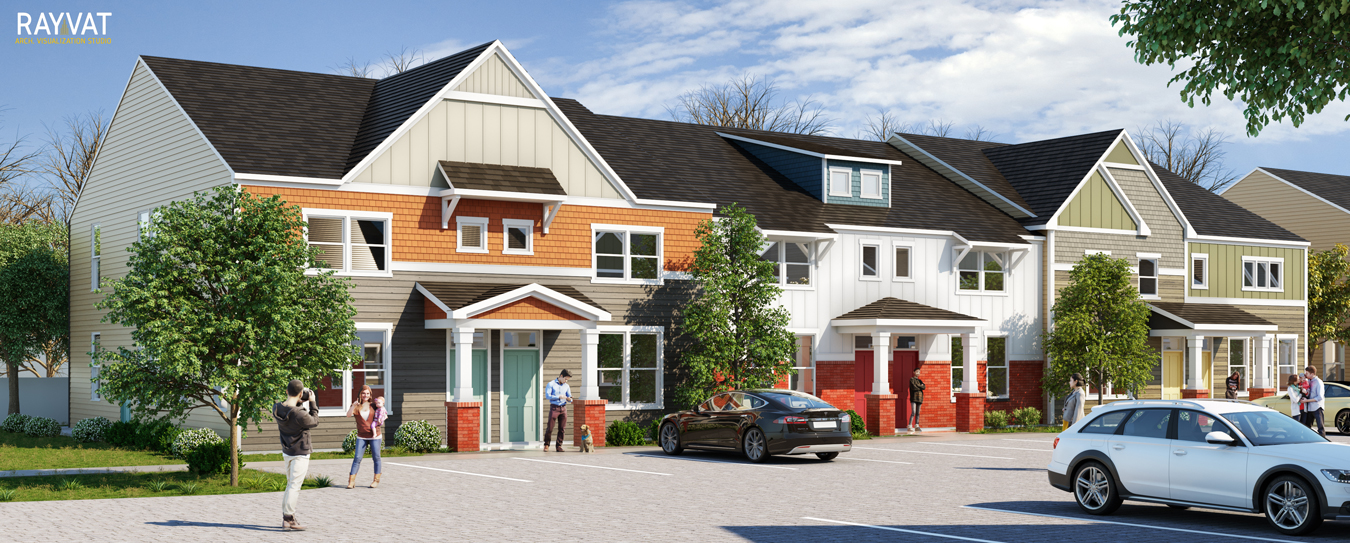 Sounds Great! Is high-quality 3D House Rendering Expensive?
There are a few factors that determine the cost. To begin with, the more complex the design and detailing, the higher will be the cost involved. Again, if you are asking for more views from different angles, considerable discounts can be given on per-image render cost. Hyper-realistic renders would cost more than lower-quality images, and if you want the work to be completed in a shorter time, you may also have to shell out a bit more. As a benchmark, Rayvat Rendering Studio prices images at $300-700 per image for residential to commercial projects.
However, the benefits of home 3d rendering far outweigh the costs. To get a detailed quote, do connect with the Rayvat team today! We can work with you to create the images you need within your specific budget and timeline.
How Long Will it Take?
We generally give you the first draft of rendering within 7 business days, and quite often even sooner than this. If you're in a hurry, we could even offer express services. Regardless of what your requirement is, we will always endeavor to meet and exceed your expectations.
Why Rayvat Rendering Studio?
Rayvat Rendering Studio is an ArchiCGI firm that has been at the forefront of the architectural visualization business for over 10 years and has worked on a thousand types of render for customers across the world. Our clientele includes some of the biggest names in Real Estate Development, Realtors, and Architects as well as Individuals.
Our business grows through word-of-mouth from our satisfied customers who keep coming back for more, a sure assurance of our superior quality and excellent customer services!
We're the Experts!
Without any compromise on quality, we can get your imagery completed in the shortest possible time at the most cost-effective rates. Drawing on their experience, our talented artists will be able to advise you on the camera angles, lighting details, and other specifications that will showcase the beauty of your project in the best manner.
We also assure you of 100 percent secure services. As our client, you will have your private account on our cloud server that will have a repository of all your renderings. You can access this portal 24/7 from anywhere in the world, and you can download and send your renderings to your clients and marketing team with just one click. It is straightforward to e-mail the link to stakeholders and decision-makers.
Let's Get Started!
So now that you' know just how much of a difference a House 3D Rendering can make to your project, are you ready to take the next step? Whether you are looking for a hyper-realistic exterior image or detailed interior views, Rayvat Rendering aims to deliver the best! Take your project to the next level; and connect with our team today!
Call us at +1-888-863-4445 or email us at engineering@rayvat.com!