3D Rendering Case Study Project for a Single Family Home, Demarest, New Jersey
A well-known luxury home builder, Apex Lux Homes, had contacted us with the assistance required for 3D Rendering of a single-family home. It's new construction, currently being built on the beautiful Demarest East Hill street. The house comprises of over 5200 sq.ft of finished space, offering a unique combination of luxury, style, and comfort. This house is well suited for entertaining as well as living a comfortable family life.
The house built on three floors, with the main floor featuring a two-story foyer, great room with fireplace, gourmet kitchen and pantry, dining room with an attached butler pantry, living/media room, bedroom ensuite, powder room and mudroom leading from a two-car garage.
The second floor offers the master suite with fireplace and large walk-in closets, three additional ensuites, and laundry. The lower level offers a bedroom ensuite and an entertainment center loaded with amenities, including a game room, lounge/bar, gym, wine cellar, home theater, and a full bathroom. In the backyard, you will find a full outdoor kitchen and a gas fire pit.
Salient Features of the Bungalow
Area – 0.28 Acres
Floor Size – 5210 sq.ft
Configuration – 6 Bedrooms and Bathrooms – 8 Nos
Special Amenities – Barbeque Area, Wet bar.
Structure Type: Colonial
Roof type: Shake/Shingle
Exterior Material: Composite
Windows – Double Pane/Storm Windows
Step 1: Inputs for 3D Rendering
The client provided Rayvat Engineering with the following initial inputs.
.dwg file of the elevations
Architectural Plans PDF
Reference Image for 3D Exterior Render for colors and styles
Elevation Details: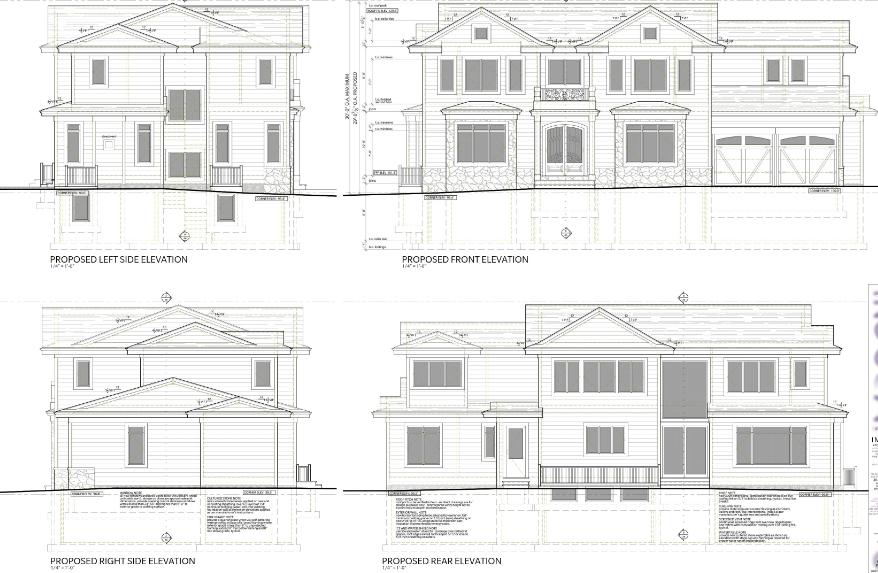 Step 2: 2D to 3D Modeling
For preparing the 3D Renderings, it is imperative to turn the 2D Plans comprising of elevations, floor plans, and sections into a 3D Wireframe model. For this, we utilize Autodesk Revit software.
In a timespan of 3 working days, Rayvat Engineering submitted a 3D Revit model along with snapshots from different angles for client review. Post a couple of markups. The Revit 3D Model approved for subsequent work of 3D Rendering.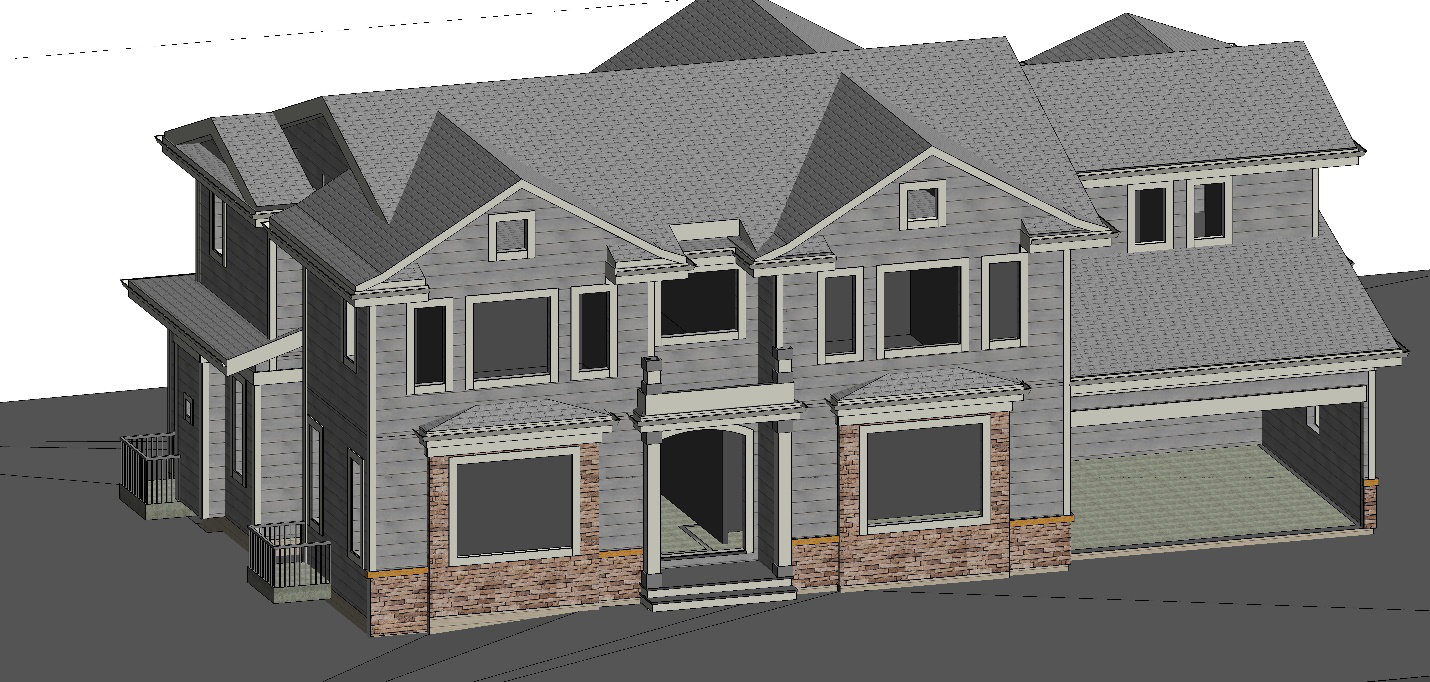 Step 3: Rendering Inputs for 3D Exteriors
After freezing the 3D model, we move further with the application of finishing material like the ones listed below:
Siding: Hardie Plank Lap Siding
Color: Smooth Arctic White
Garage Doors: Reference image provided along with the detail of doors being black with windows at the top.
Stone Siding: Dark Rectangular pieces of 10″ x 6″ – Reference image provided.
Roofing: Black Shingles – Reference image provided.
Landscaping: Typical New Jersey Plantation, Reference images provided.
Camera Angle: 3/4th Camera Shot
Step 4: First Draft of Exterior Render
Based on the inputs, Rayvat Engineering provided the client with the first draft of 3D Rendering in 4 business days for feedback from the Client.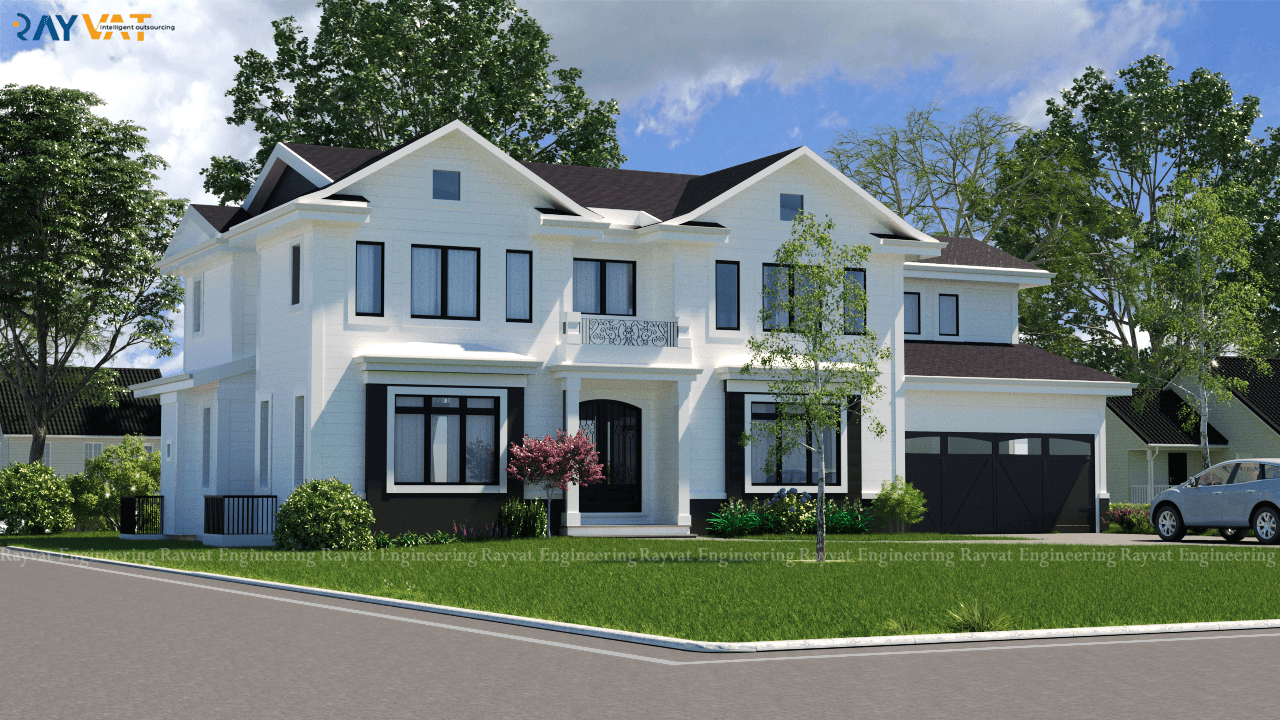 Feedback on First

Draft Observations:



1. Windows are black
2. Corner trim is wider
3. The walkway is only between the garage and front door
Note – It's best if the renders itself are marked for corrections. Subjective emails can sometimes be confusing as it can be ambiguous. Click here to read our blog on 'How to provide the best feedback on 3D Renderings'.
Step 5: Second Draft of Exterior Rendering
Based on the feedback in the first round of markup, we submitted the second render in 2 businesses.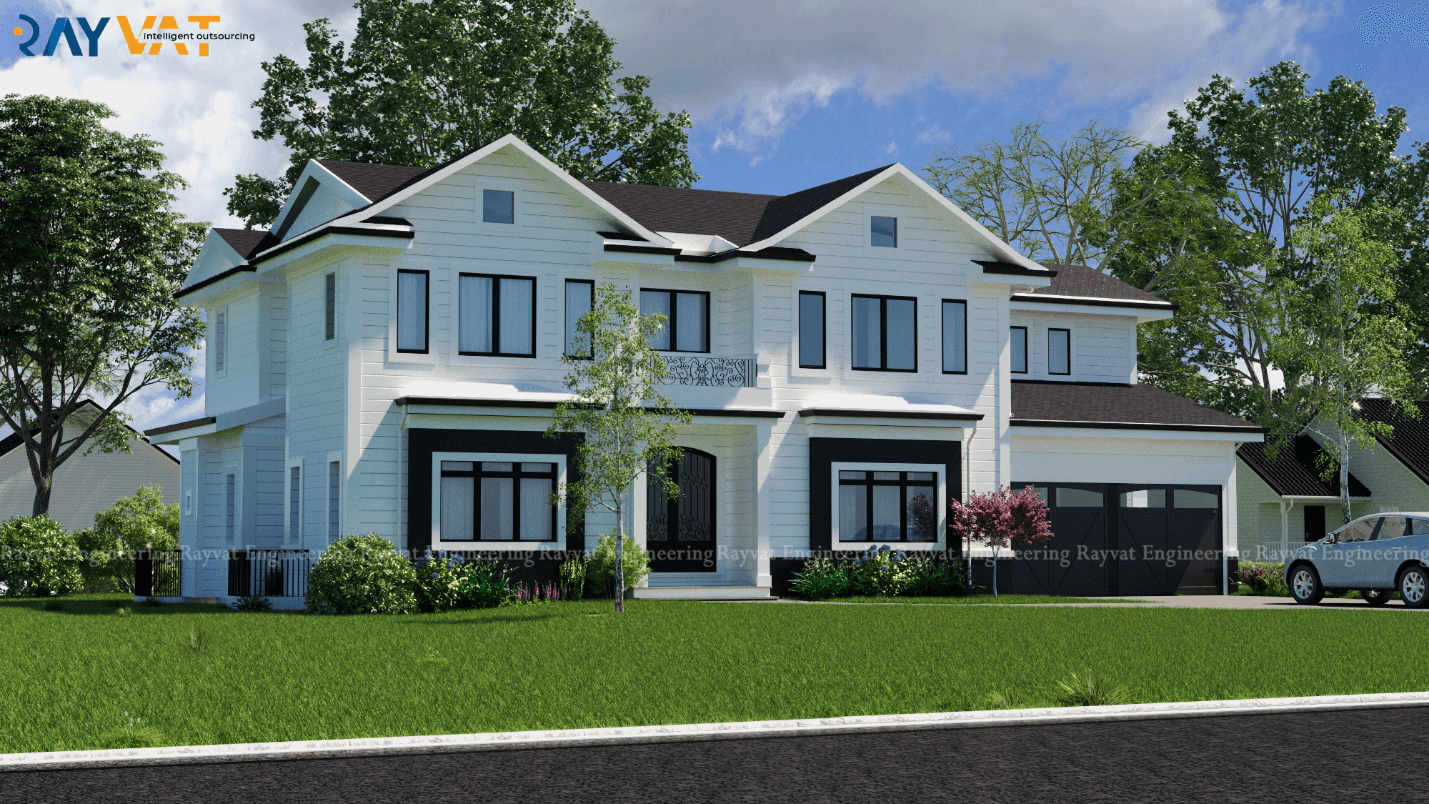 Feedback on the Second Draft
1. Garage door separator column to be checked.
2. Stone is not defined; it looks like brown paint on the walls.
3. A roof is blacker, (Ref provided)
4. No horizontal separators on the front windows
5. Stone Border around the Windows is wider in the plans
It is necessary to provide exhaustive feedback received from all stakeholders, as mentioned in the previous step, to make sure no changes made at the time of final delivery, which is the final step in our journey.
Step 6: Final Delivery in HD
All the changes in the second round of markups were incorporated, and an HD quality final deliverable was submitted. At this stage, we provide images with the watermark. Once the payment has been made in full, renders without watermark are submitted. Any corrections at this stage would be chargeable.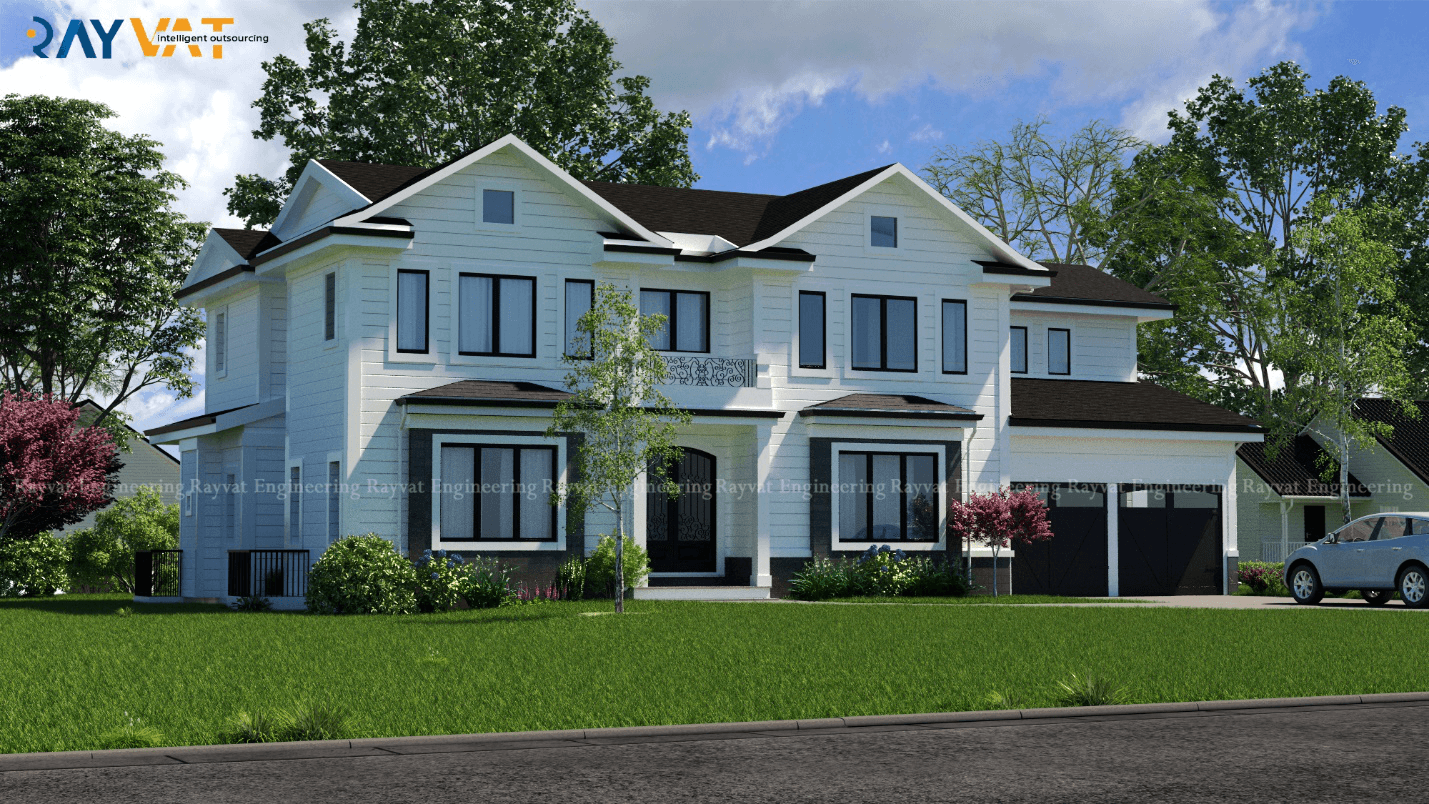 FINAL HD RENDER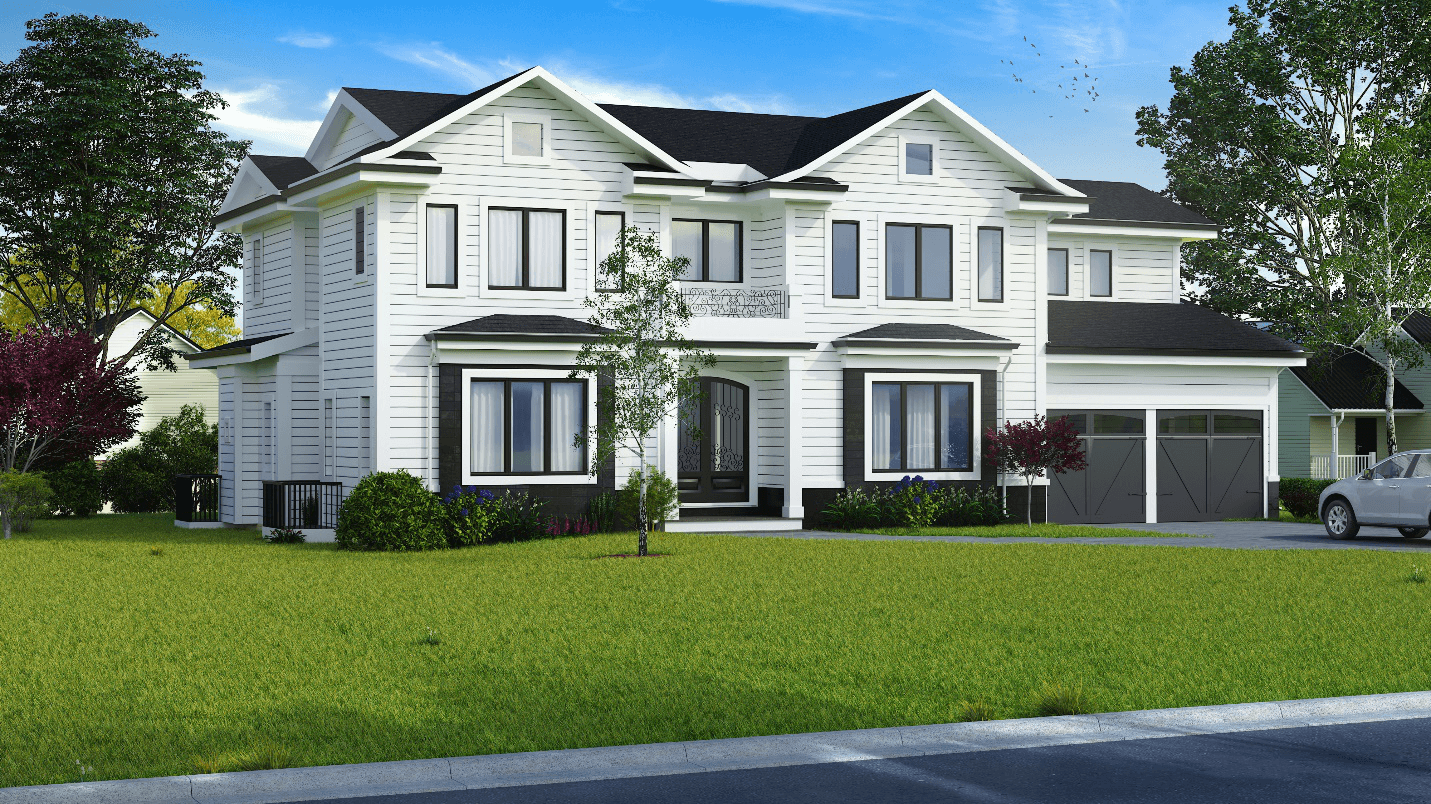 Rayvat Engineering is a trusted partner to deliver real estate marketing material. Our renders improve your listing performance across MLS sites, Zillow, Redfin, etc. by the 6X increase in footfalls.
Get in touch with us today at our email address – engineering@rayvat.com or call us at
(US) : +1 (888) 863-4445
(UK) : +44 203 608 9399