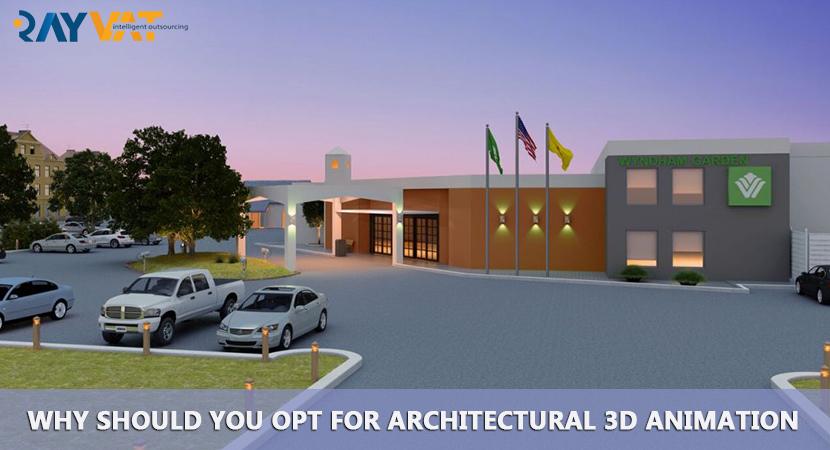 How to Achieve High Levels of success with Architectural 3D Animation?
Gone are the days when real estate developers and planners developed structures, commercial spaces, and residential spaces only from paper-based designs and plans. In today's digital world, it is not only prudent but sensible as well, to design and plan structures on computers. This has come up as an entirely new arena of architectural expertise.
Rayvat Engineering is one of the pioneer companies in India providing comprehensive solutions in the field of 3D visualization and animation. With a highly motivated team of creative professionals, we can offer customized solutions to our clients. Our mission is to deliver the best quality 3D Architectural Drawings and Visualization.
Architectural 3D Animation Services is a task that needs collective efforts of people with different skills. Imagination, creativity, design, planning, and implementation are some of the primary areas of work in architectural animation. Creating a virtual world that helps you 'go-in' the building or structure and experience how it would look from the inside, is no easy task but this type of visualization is very beneficial. It forms the basis of effective communication between the architects and the clients, it can be used to detect design flaws, and it helps in visualizing how a structure or building would appear against a particular site.
Real estate developers are very keen on investing in architectural animation as it provides them an insight into the to-be-constructed structure. It is now the responsibility of the animation or design studio to develop a virtual world that is as realistic as is possible. These are Where our expert and professional designers come in.
Our team at Rayvat Engineering not only designs or merely animates, but it plays close attention to minute details so that the outcome is very realistic. The organization coordinates with all the departments involved in architectural animation to produce excellent results for all types of projects, irrespective of its size or complexity. Each client is important to us and therefore, personal attention to details and handling of projects in a professional manner is given utmost priority at Rayvat Engineering.
Some of the services offered by our company include:
3D Architecture
3D Architectural Design
Architectural Perspectives
Architecture Survey
3D Rendering
3D Animation
3D Animation Walkthroughs
3D Modeling
Landscaping
Interior Visualization
Construction Administration
We, at Rayvat Engineering, wish to help you make your dreams come into reality. The use of the above-mentioned 3D Architecture Rendering techniques enables you to get an idea of how the would-be constructed structure, comes up. We are equipped with state-of-the-art infrastructure and access to amicable resources that help us achieve our business targets.
We wish to be your partner in the dynamic and ever-changing world of architectural animation. As a project management company, we assure management of all disciplines that fall within the realm of engineering, design and architecture industry.
We have completed projects that have been far beyond the clients' expectations. You can view our portfolio to get an idea of what we are capable of. Contact Us for a free quote or get an appointment today.