Make a Stunning Impact at Design Presentations with Living Room CGI!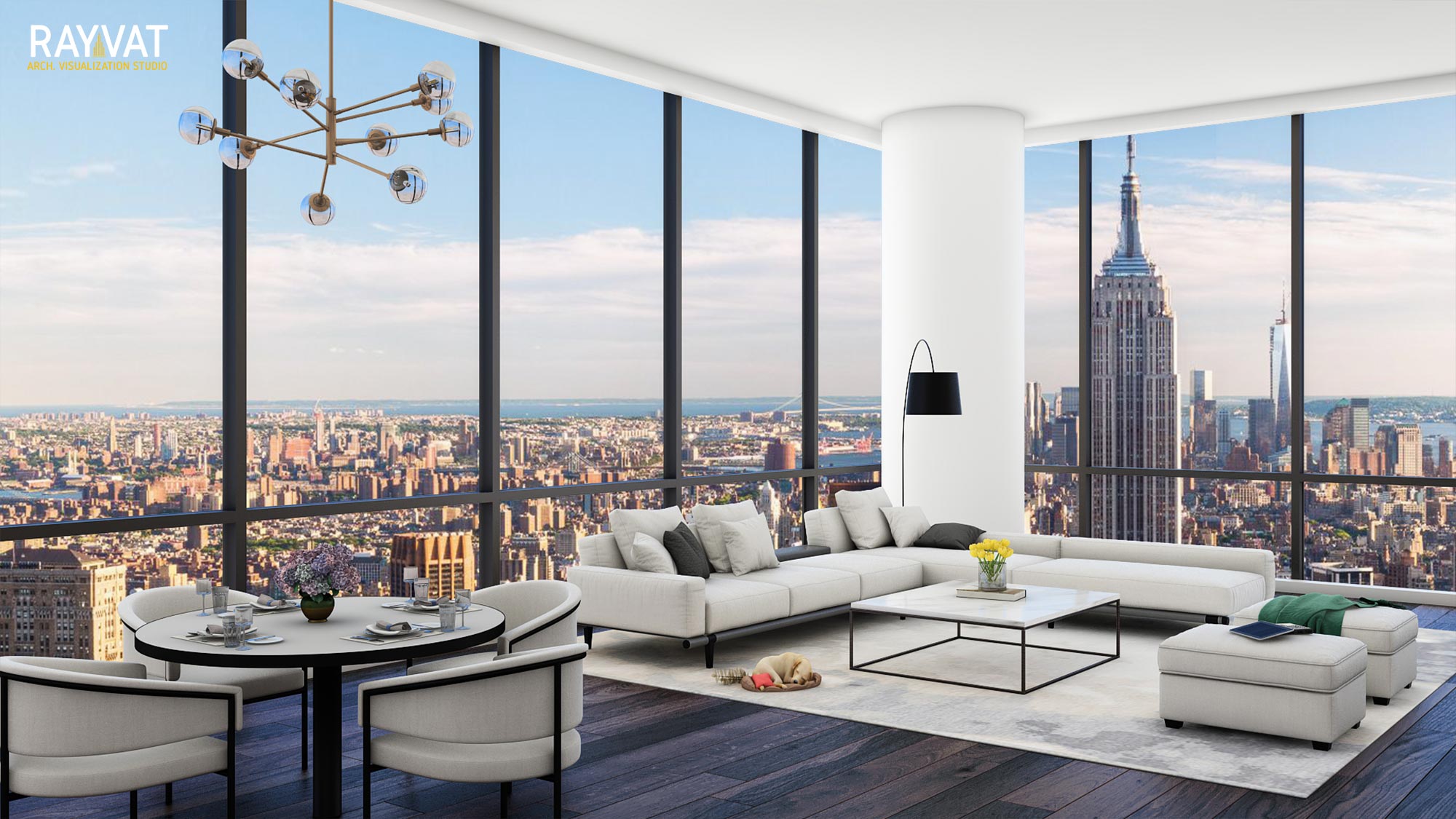 As every architect knows, it's not easy to impress clients at interior project presentations. If you want to stun them with a presentation that is head and shoulders above the competition, you must make every effort to showcase the beauty of every room in the house, starting with the living room.
The living room is the space where your guests are entertained, and it's often the only part of your house that those who are not very close to you will see. As such, the living room interior of the house should be meticulously planned and executed, and as an architect you will want your clients to understand the thinking that has gone into the design of this space.
Quite often, it might be difficult to get your clients to understand your design concepts, and mere words or 2D drawings do not effectively convey your ideas to customers who have no understanding of these images. Floor plans and elevations are woefully inadequate means of translating your thoughts to others, and the ambience and mood of the design is not transferred onto the paper at all. Clients who are not trained to understand these drawings will not be able to pick up on the carefully considered details that you have designed.
At Rayvat 3D Rendering Studio, we have helped leading architects across the world to showcase their design projects through stunning 3D presentations. They have been able to convince even their most hard-to-please clients about the beauty and practicality of their designs through hyper-realistic CGI images that are virtually indistinguishable from a real photograph.
Ready to wow your clients with presentations using state-of-the-art 3D visualization techniques? Read on to find out how you can do that!
#1. Living Room CGI Clearly Depicts the Room Layout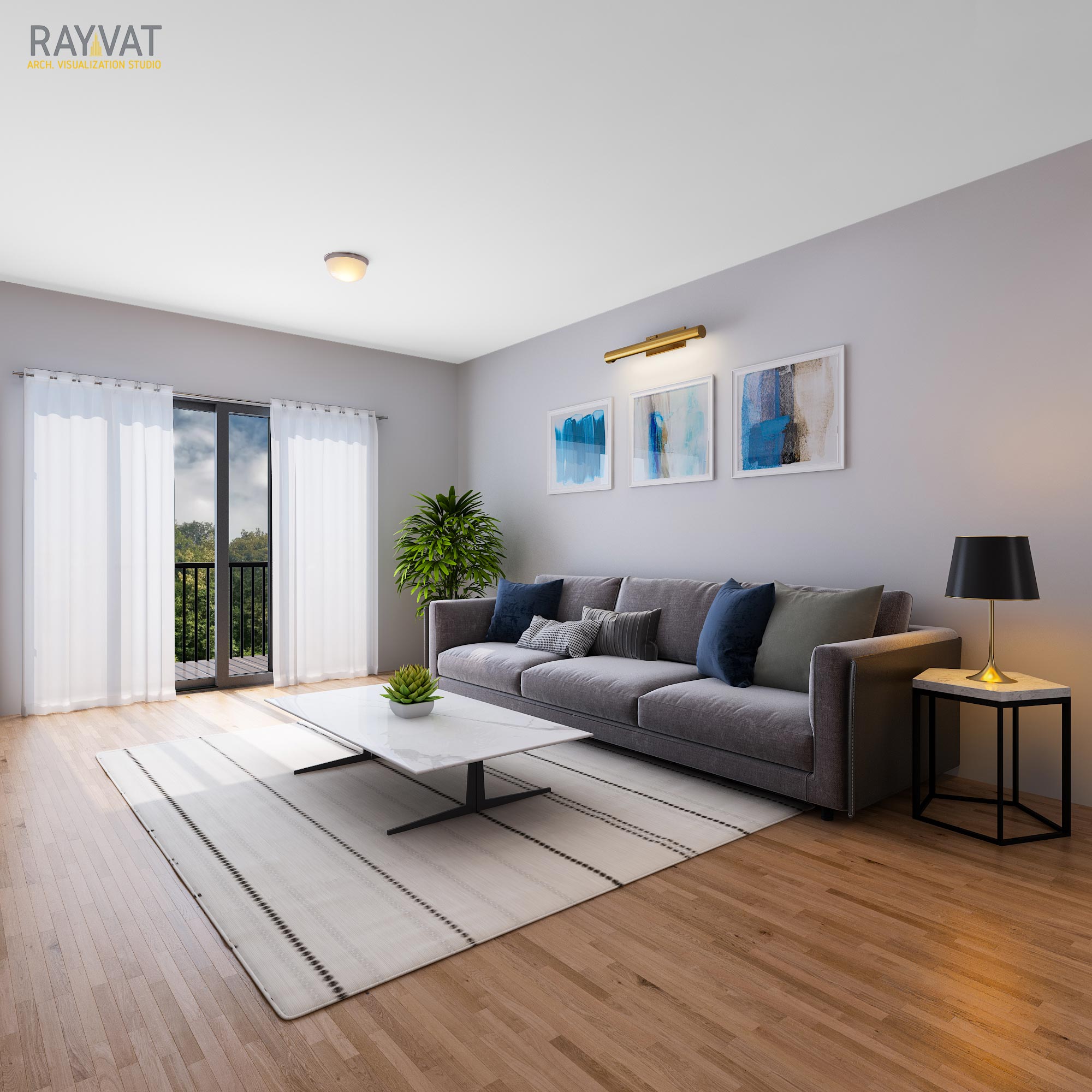 While a 2D floor plan can show the dimensions of the room and the top view of the furniture, it is a flat drawing with no perception of depth. People with no background in design will, as a result, have a hard time reading them. Using living room CGI, the layout can be shown from different points of view, helping a layperson to understand clearly the spatial relationships of objects in the room and the positioning of furniture and other elements, just as clearly as if they were right in front of their eyes.
#2. CG Images Perfectly Showcase the Formal and Informal Living Room CGI Atmosphere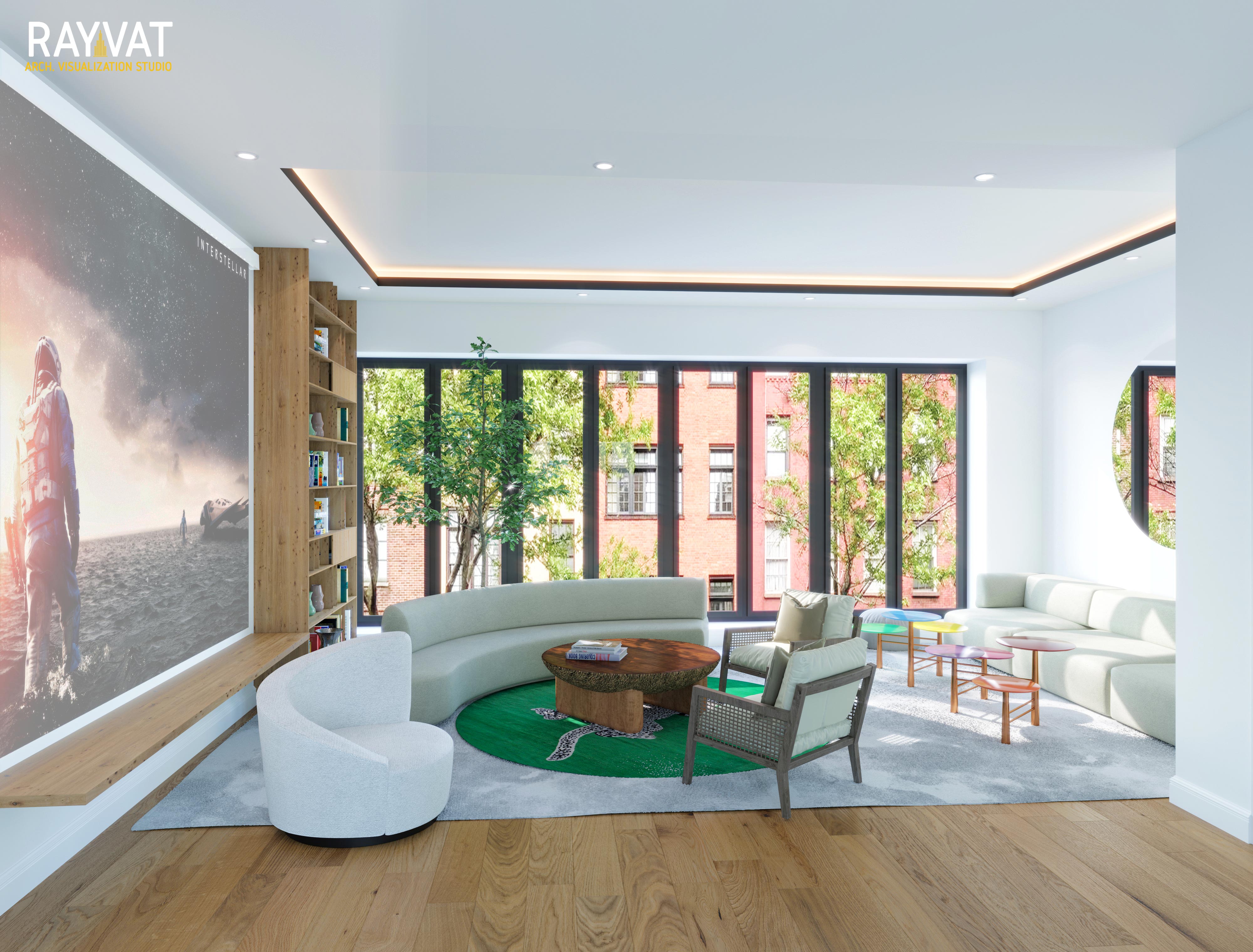 When you're trying to tell a client how their proposed home interior is going to look, words or sketches prove inadequate to convey the atmosphere and ambience you are trying to create. You might want a living room that's formal, carefully balanced and symmetric; or you might want one that's cozy and filled with warmth and vibrancy. Using photorealistic 3D architectural visualization, you can easily prove to your clients that your conceptualization of their home is exactly the way they would like!
CGI can be used to add all the clever touches: layers of warm lighting, couches piled high with cushions, lovely artwork on the walls and multi-coloured rugs on the floor; all that goes into making a house a home. When your clients can see exactly what your design and interior concept is, they will fall in love with it like you have.
#3. Living Room CGI Shows Rooms at Different Times of the Day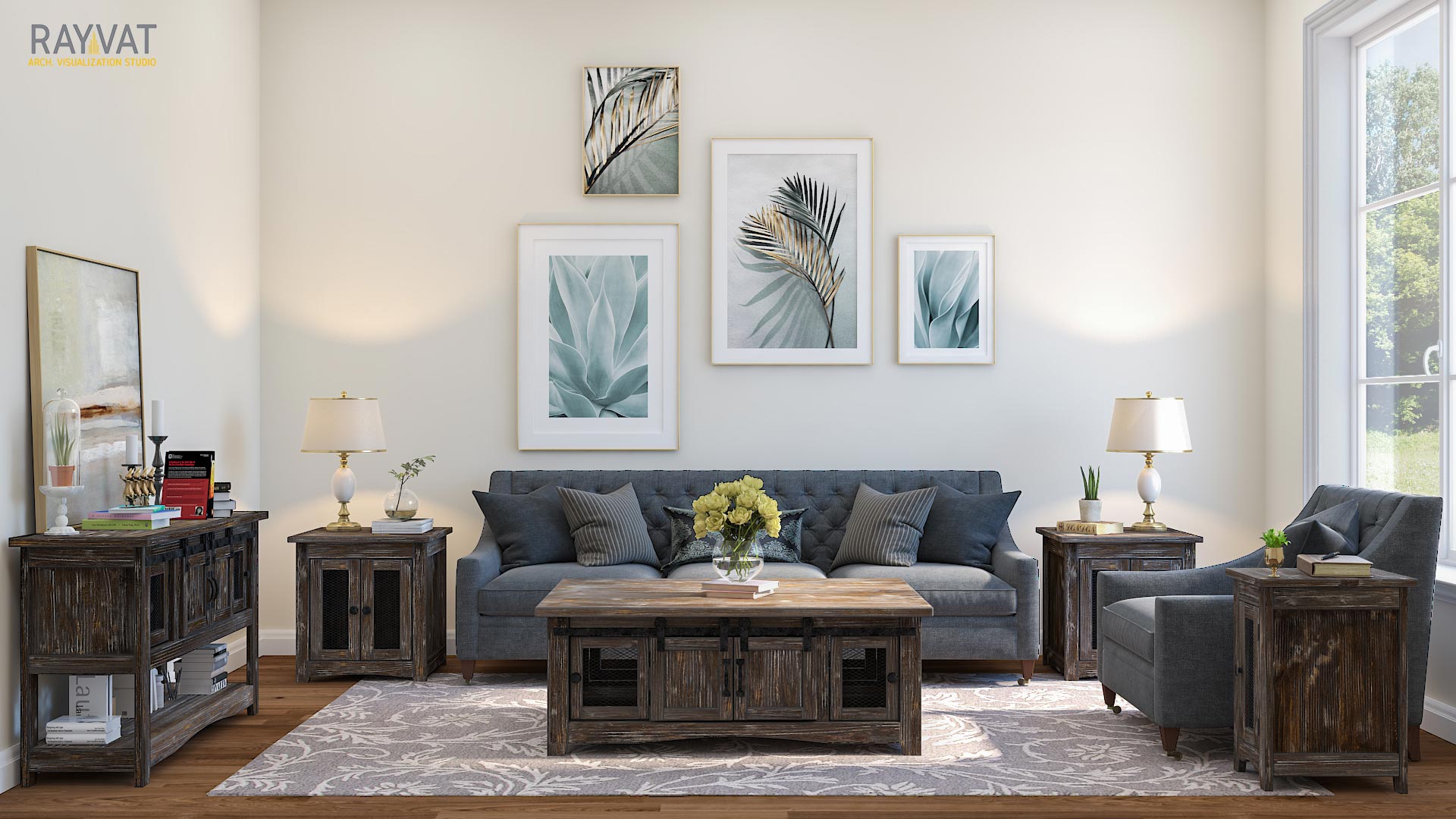 The right lighting can make or break a home interior, and when it comes to the living room it's very important to get the lighting details perfectly right. In the living room, you should plan for three layers of lighting: ambient lighting, task lighting and mood lighting, and create the right levels of illumination required for different activities in the room.
As an interior designer, it's important that you communicate not just the locations of these light fixtures, but you should let your clients see the effect each of these different types of lights will have on the room interior. Using 3D architectural visualization, you can easily demonstrate your lighting concepts to your customers, allowing them to see how the living room looks in the daytime and at night.
#4. Convey the Selection of Finishes and Textiles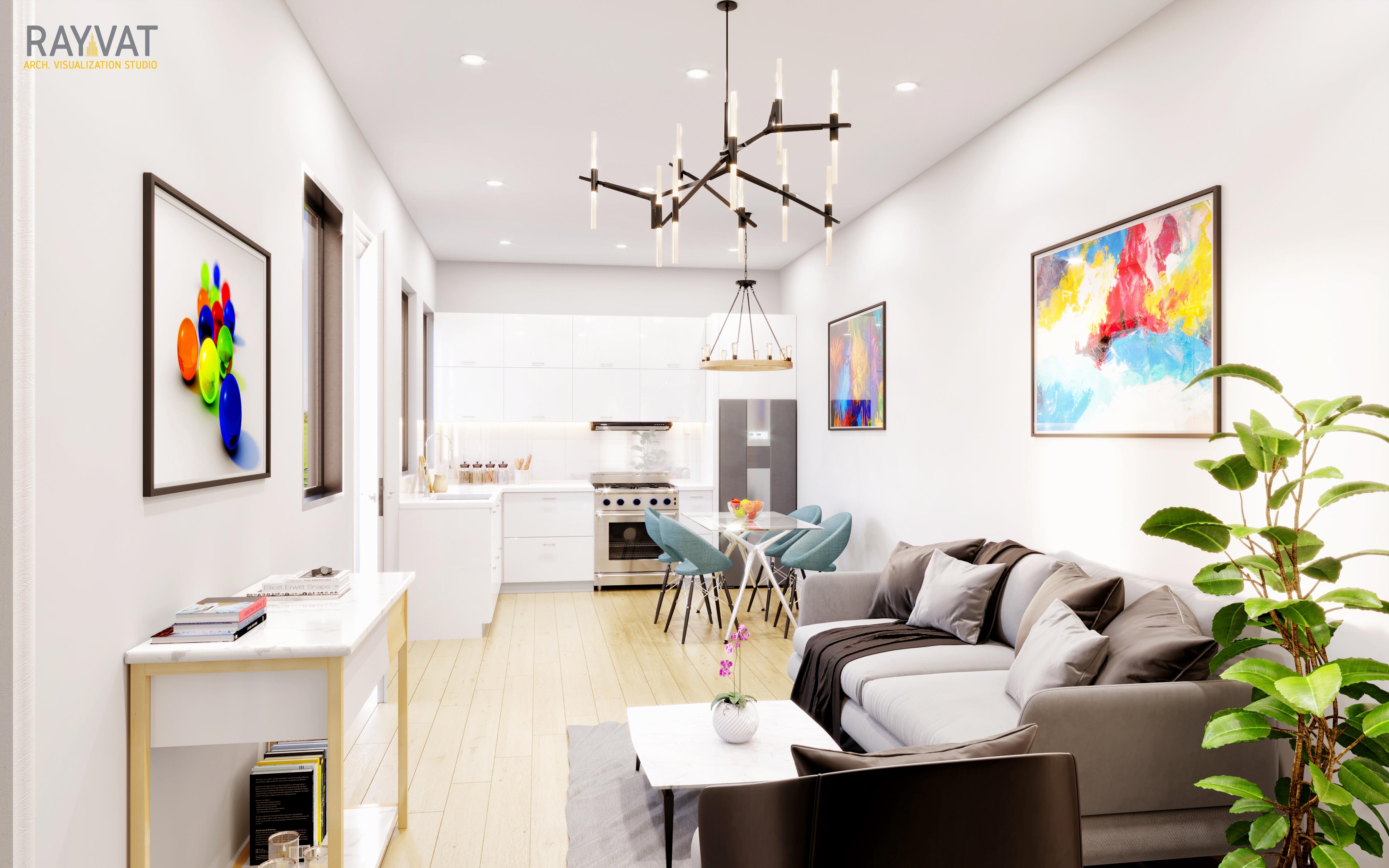 The textures, colours and patterns of furnishings like rugs, curtains and upholstery make a lot of difference to how the living room interior looks. While you could show swatches of materials or colour boards to your clients, they will not be able to understand how it will actually look inside the room. Using photorealistic living room CGI, you can show your material choices and clearly show how every aspect of the interior will look. Once your customers have understood the thought process behind your designs, they will buy into your concepts easily.

#5. Show Even the Most Minute of Details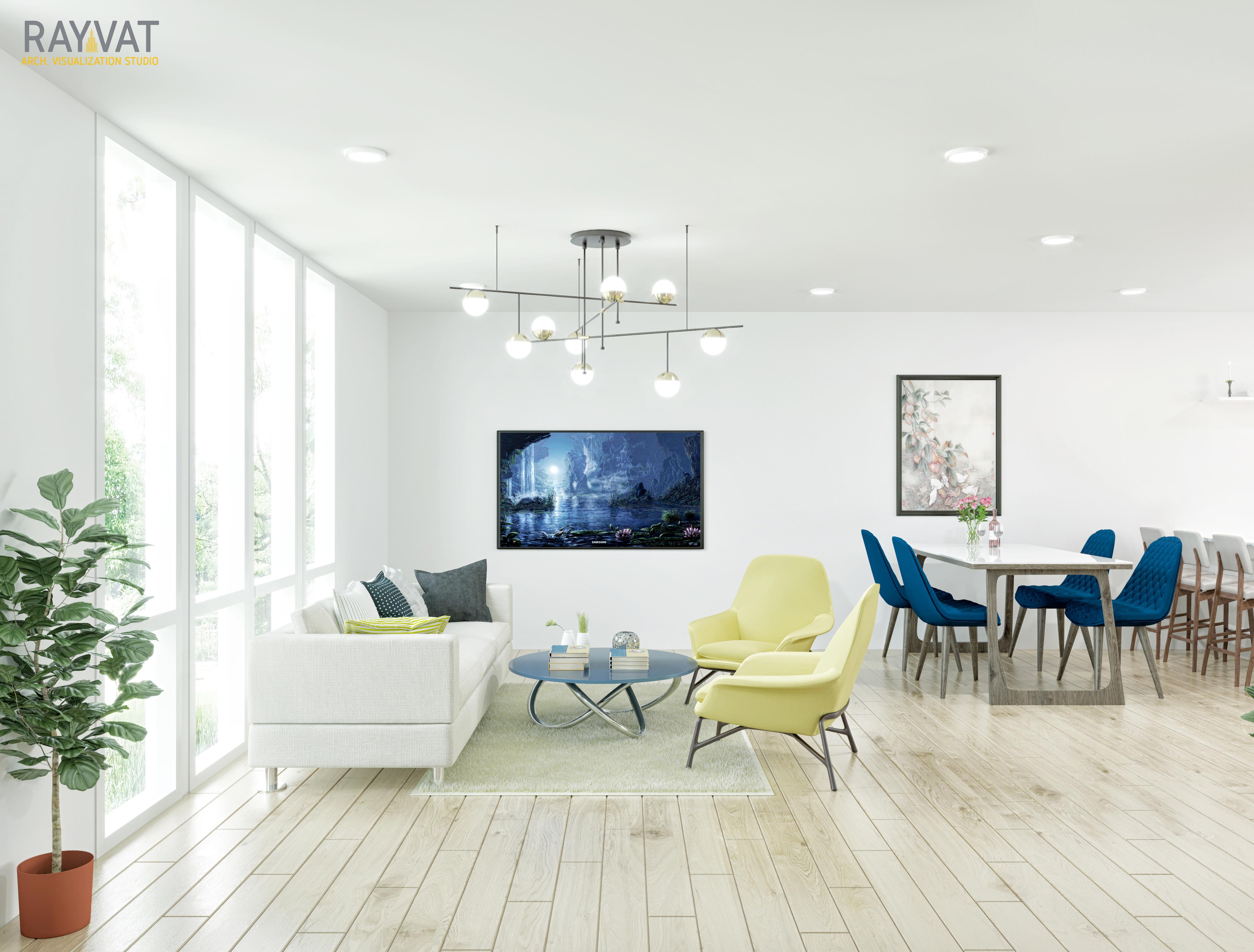 Detailing is very important when it comes to the final look and feel of any interior design. Two rooms may have a similar layout but be completely different because of the décor theme and detailing. A living room interior can be finished with thoughtful details such as sustainable material choices, hand-knotted carpets, antique furniture, wall sconces for lighting and ceiling mouldings. With 3D rendering, even the tiniest of details can be depicted in the image, and clients can zoom in to view them easily.
As you can see, using 3D rendering is a proven means of capturing client attention at design presentations. Boost your portfolio and increase recognition for your firm by hiring the best 3D visualization experts in town. For photorealistic CGI, connect with Rayvat Studio at +1-888-863-4445, or drop in an email at engineering@rayvat.com.