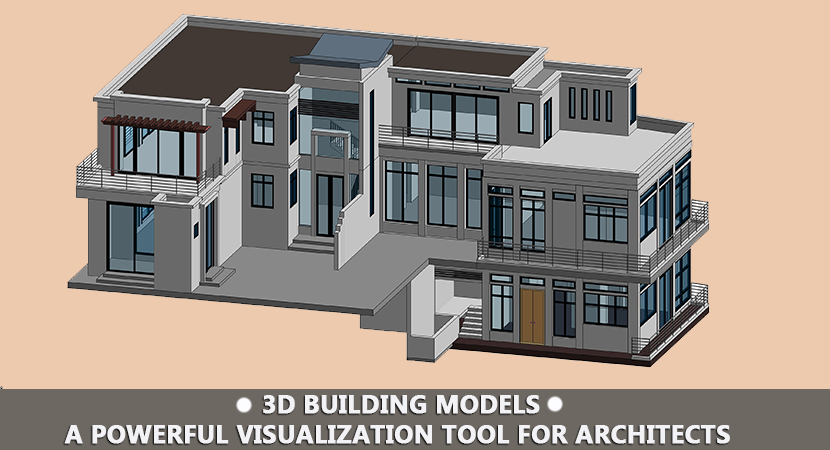 3D BUILDING MODELS – A POWERFUL VISUALIZATION TOOL FOR ARCHITECTS
A POWERFUL VISUALIZATION TOOL FOR ARCHITECTS
Architecture has always two-dimensional with imagery, and down the ages, architects have used different techniques of visualization as a tool to communicate and translate their concepts into reality. Traditionally, two dimensional drawings were used to design buildings – such modeling was prone to miscalculations and errors in measurement, which often proved costly at the construction site. These 2D drawings were also often difficult to understand and did not represent all the various layers of building the design in one image.
As an architect, you may have the whole project down in vivid detail in your mind. But you need to be able to communicate the elements of your design thinking to your customers and get them to see that your design is just perfect for them. For this, your clients need to understand how the Design Works; and that's where you often run into a roadblock. Most clients are not able to follow the twists and turns of traditional sketches, 2D plans, and elevations. While they do show accurate representations of spaces and proportions, 2D drawings are just not intelligible to the average layperson. It is often difficult for them to understand the flow of spaces, or to get a real sense of the building layout, functionality and aesthetics.
This is where today's technology can help you. Recent advancements in digital technology have given us possibilities like CAD Drafting, photo-realistic imagery, virtual reality and now even augmented reality….potent communication tools that, when used to advantage, can build the bridge of communication between you and your client. The pen and paper drawings and sketches of earlier times are now firmly relegated to the past, as are also traditional methods of architectural modelling in the form of scaled-down physical replicas of the project.
Most architects today use different types of Architectural Building Models to test, convey and sell their ideas. 3D building models and digital rendering have reached a new level of hyper-realism that is almost indistinguishable from a real photograph. These hyper-realistic models are a powerful medium to convey thoughts and ideas, giving your clients a clear representation of what the built spaces will look like. Here are some of the advantages of using 3D models as a design tool.
Clear Understanding of the Design Concepts
3D building models offer a 360 Degree View of the entire project, allowing the design team, clients and stakeholders to get on the same page and better understand the scope and vision of the project. All decisions about the design can be confirmed, and potential problems can be identified and solved early into the project.
Showcase Concepts for Design Competitions
Architects who are pitching for competitive projects can use 3D building models as a visualization tool to help them explain their design concepts. Well executed models will add value to the project presentation and increase their chances of landing the contract.
Clients who can understand the design choices will approve the concepts more efficiently, reducing the time spent on rework and creating alternative design options. They will also be able to collaborate on the design process by giving clear feedback and inputs for design changes.
All stakeholders in the project have access to the 3D Model and can see the changes that are requested and made by others. With the increase in transparency and improved communication, there is less room for misunderstandings later on during the construction.
Any construction work requires the proper permits to be in place. 3D building models help to expedite the required permits, as the regulators will be able to get a clear visual and complete understanding of the finished project.
Reduction in Design Costs
As the communication of concepts becomes very clear, design changes due to uncertainty are cut down, reducing associated costs. Spaces can be tested and tried out in the 3D model format itself, doing away with the need for expensive rework at the site.
By allowing clients to see options of colors, textures, and finishes, they can quickly make the right design choices. Design options can be depicted at the click of a mouse, enabling instant decision making. 3D Modeling Eliminates all the guesswork in interior design as well, allowing clients to pick the accessories, lighting fixtures, furniture and so on.
Improving Speed of the Project
3D models can save time, effort and money. Contractors, Engineers, and builders who have the 3D model as a reference will make fewer mistakes at a site as they have an accurate picture of the finished project. They will get an overall view of the entire building process and will be able to figure out their role. Projects can be completed with a higher degree of quality and in record time.
Greater Precision in Building
3D models use real-time data to give accurate representations of the project. As time is not wasted in measuring 2D drawings, there is greater control over precision. This prevents mistakes at the construction site, which could be not only very expensive to redo, but will waste valuable time and resources as well.
A beautifully rendered 3D model Serves as a powerful marketing tool for builders or real estate agents. It can create considerable enthusiasm among potential buyers around the future development, even before construction has started. Digital models can be posted online as well, allowing for a far greater reach of your project details to an online customer database.
Clearly, there are immense benefits from using 3D models in building construction. New advancements in digital technologies have led to amazing opportunities in the world of architectural modeling. When executed correctly and with care by experienced professionals, a 3D building model can be a tool that will steer your project in the right direction from start to finish.
Do contact Rayvat Engineering for the proper guidance in professional architectural modeling services.