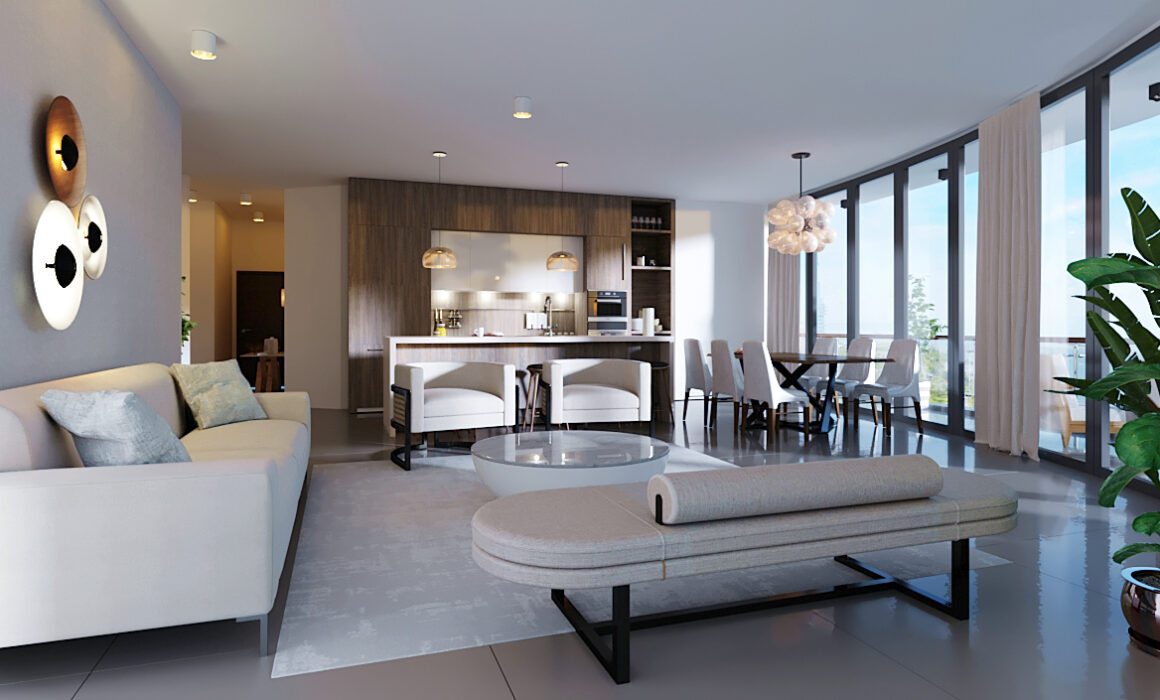 Top 5 Websites for Archviz Enthusiast
Are you an architect or interior designer who is looking to find inspiration for your designs, and seem to have exhausted all your resources? Or perhaps you're a home owner who wants to look for décor inspiration for your home refurbishment. You might have pored through all the latest online magazines and look books, participated in industry events and visited expos, and not found what you were looking for. Here's a new source of inspiration for your next ideas. Try diving into the world of 3D architectural visualization!
What is Architectural Visualization?
Architectural visualization is the process of creating hyper realistic imagery using 3D software. Using 3D rendering techniques, artists can depict how the finished project will look, at the conceptualization stage itself. Realistic 3D rendering can look virtually indistinguishable from a photograph, with true-to-life textures, materials, and lighting.
Images on ArchViz platforms showcase the most imaginative designs from innovative architects and designers; many of which may not even see the light of day as they exist only in the architect's imagination. This makes these platforms a great source of inspiration for architecture professionals.
Ready to start looking, but not sure where to start? We've curated a list of the best ArchViz platforms and professional online communities that talk about the world of architectural design and 3D visualization services. These platforms showcase the work of the best CG rendering studios and 3D artists in the world, and you'll find hundreds of stunning designs that will help you with your own ideation process. Read on, and get inspired!
#1. Behance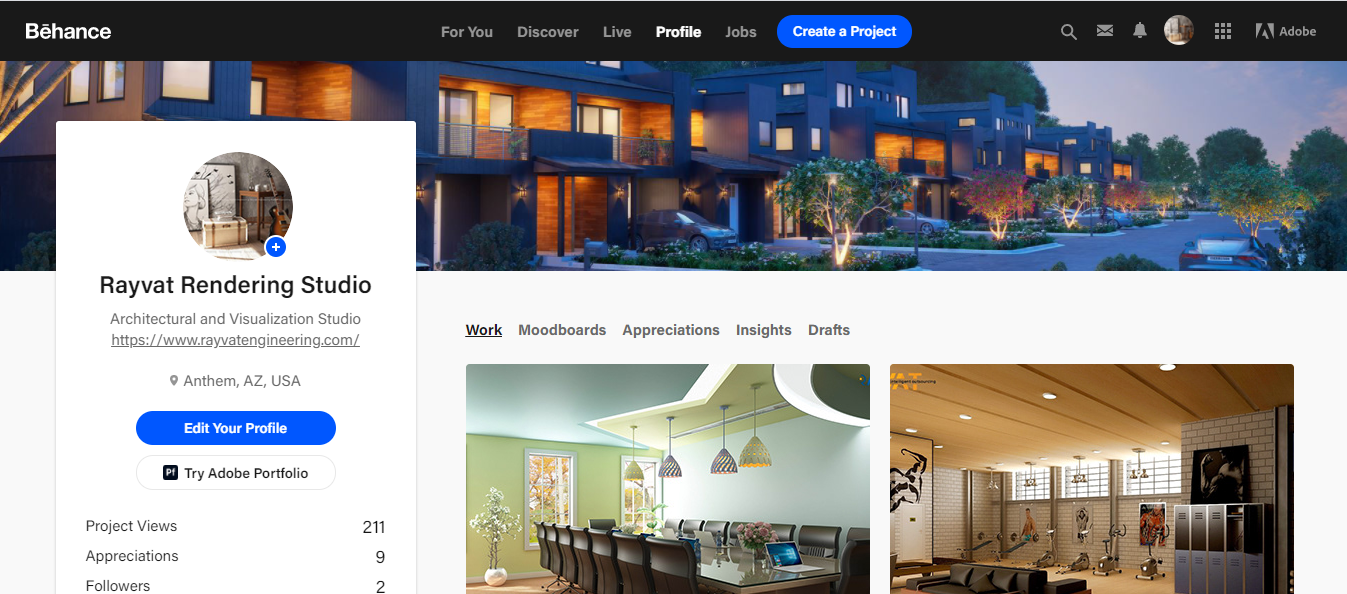 Website: Behance
Behance is a popular platform that is the go-to place for creative personalities to showcase the best examples of their work to the world. Artists and designers use Behance to publish their online portfolios. Graphic designers, illustrators, game designers, architects and, of course, 3D artists put up their designs for public viewing, and use it to get freelance or contract work from customers.
If you're looking for inspiration for design projects, Behance has a whole section dedicated to architectural masterpieces. You will find neatly laid out information about architects, interior designers, photographers, and 3D artists, and you can click on any profile to be taken to the artist's page. All the images uploaded by the professional will be on display, with a small write up on each. You might be able to see the location of the building and the design brief, or a short description about the project. Behance is very easy to use both for artists and visitors. You will be able to like and follow other people's work as well, and can save links to projects or designs that you appreciate.
#2. Cgarchitect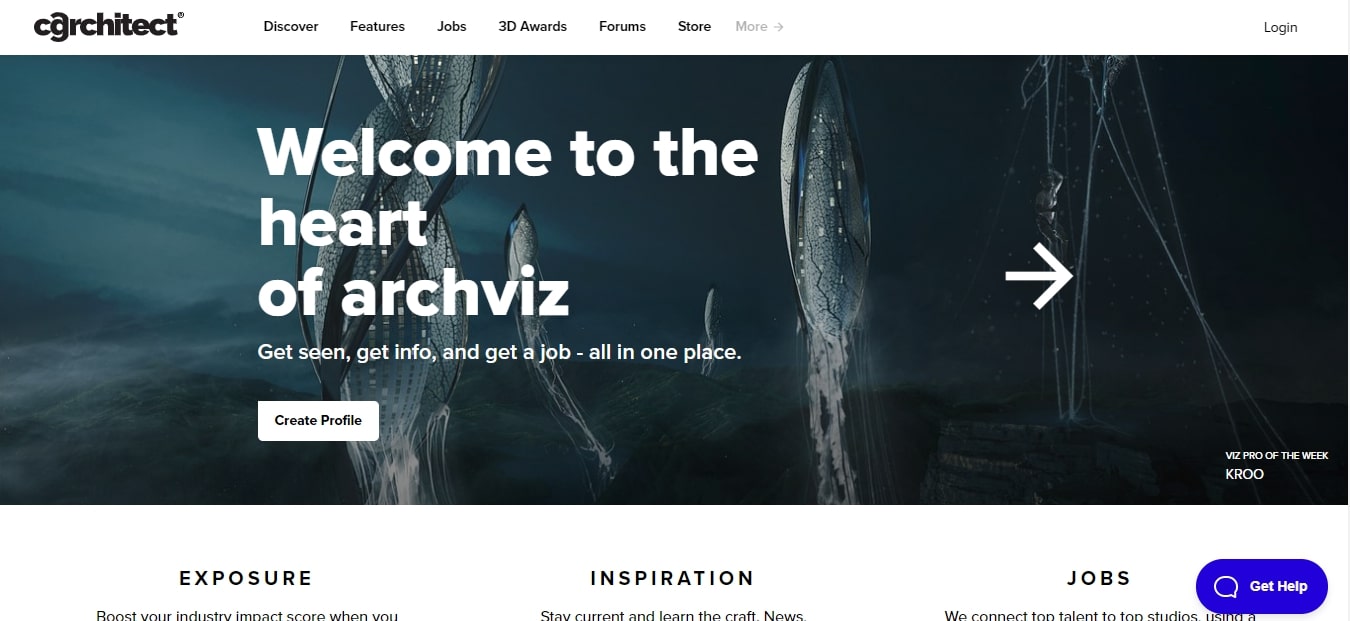 Website: Cgarchitect
The largest community that has been created specifically for professionals in the field of architectural visualization, Cgarchitect allows you to tell a story with your work. Month on month, this website welcomes over 375.000 unique visitors and is the largest source of updated information, including news on publishing tools and 3D assets , for CGI pros. You can become a member and participate in online forums, look for jobs or share your work or knowledge with the largest archviz community online.
For those who want to look through numerous architectural CG renders made in different styles, Cgarchitect is the definitive platform to check out. You will be able to view a short bio of each artist, see the comments on their work and check out the software they have used.
#3. Architizer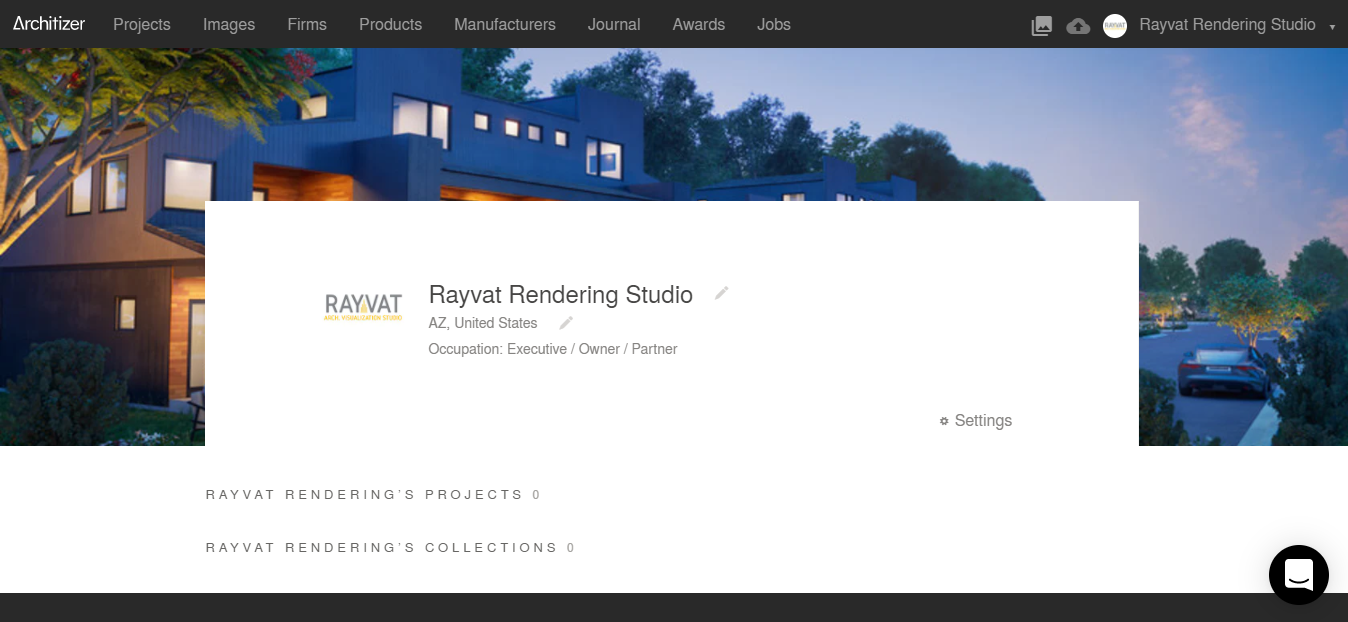 Website: Architizer
Architizer claims to be the largest online program that promotes and celebrates the year's best architecture and products. You will be able to get a look at some of the most outstanding 3D rendering projects in the world, and can connect with a worldwide network of architects, product manufacturers, consultants and building material suppliers. The founders claim that the community brings together 335.000 architecture professionals, 25.000 firms, and 31.000 manufacturers at present, and the numbers are only growing.
Architizer allows visitors to see plenty of amazing CGI projects and take a look at the winners of monthly or yearly drawing challenges, photography contests and design competitions that bring new talent to the forefront. You will be able to read short overviews and get connected with the artists and designers if you so wish. Projects are divided into sections based on type, and you can sort out and view the sections that you are interested in.
#4. Archinect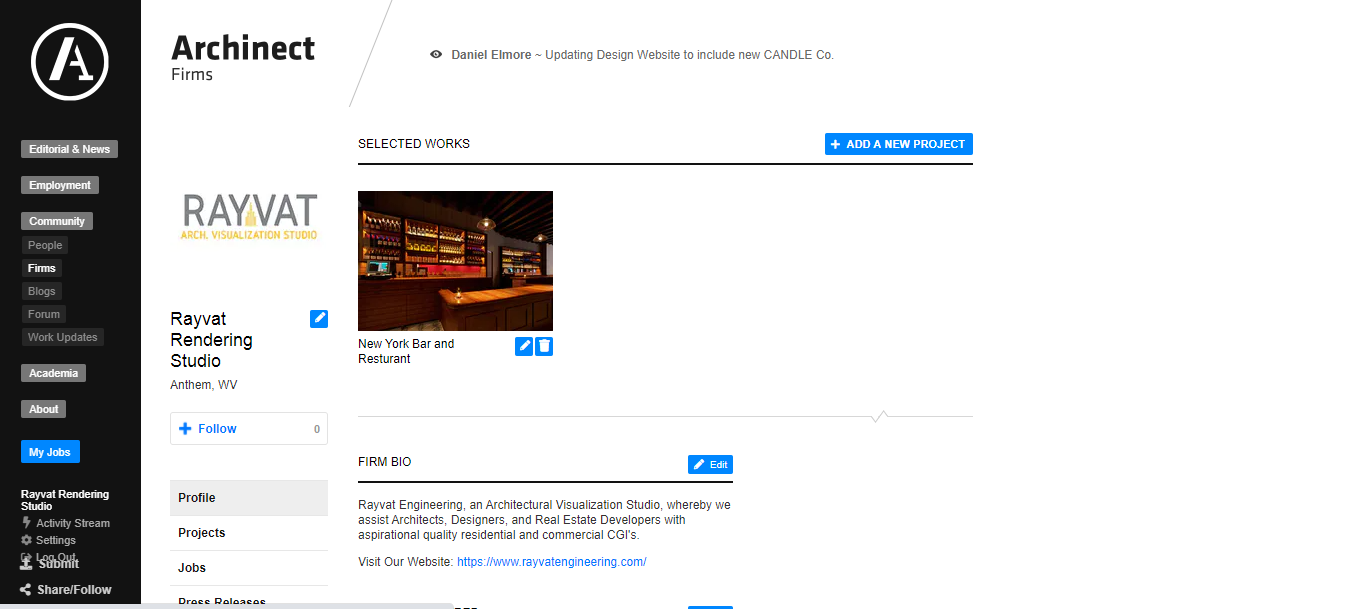 Website: Archinect
As the name suggests, Archinect was set up to connect Architects, and this platform has indeed been doing so since it was launched in 1997. Various specialists in the architectural design field can interact with each other through the platform, exchange thoughts and ideas, and find new inspiration for architectural designs. You can search for people, firms, design schools or jobs and can get to know students, experts, and followers of architectural design on a single unified platform. The latest news and views can be found on this website, and designers like to showcase their work here for others to see. Various virtual events and competitions are always on, and you can face off against someone else to judge where you stand in the industry.
To find designs that have been posted by others, just visit the 'Community' section on the website and click on the 'Firms' tab. Search to pick CGI designers listings and view their work. Similar to the previous platforms, here too you can view an architectural visualization firm's projects, bio, and contact information.
#5. Ronenbekerman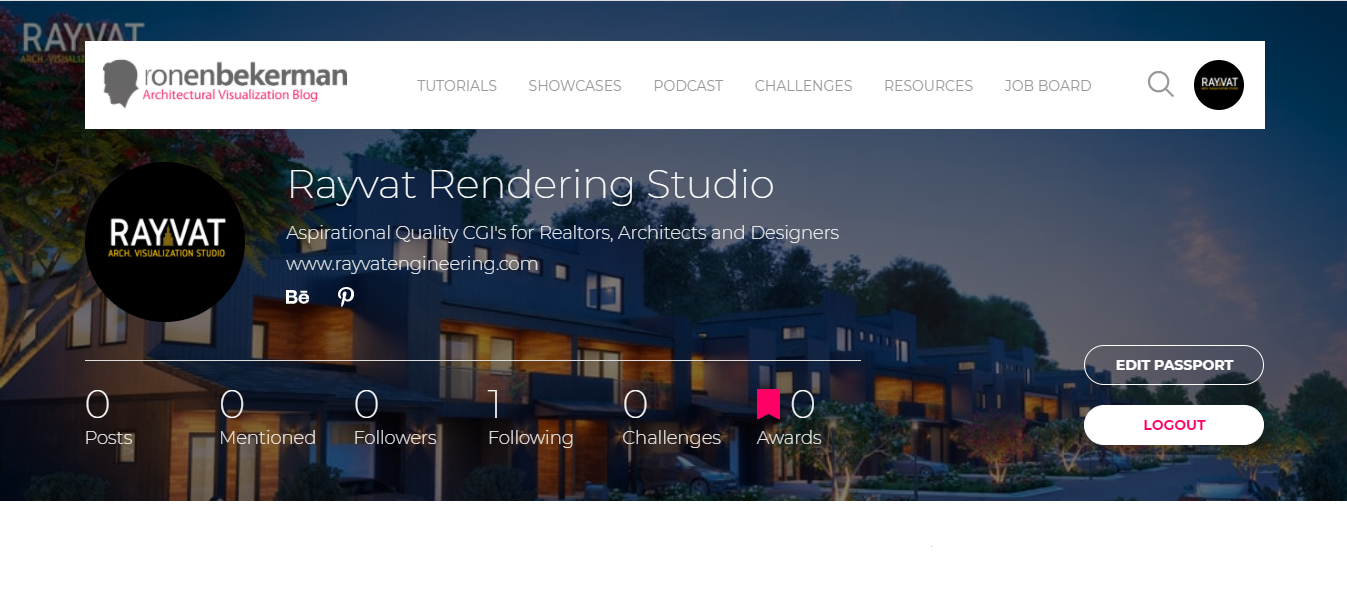 Website: Ronenbekerman
Originally a blog about architectural visualization, Ronenbekerman has grown into a community for everyone interested in the industry. It is a treasure trove for 3D artists who can find anything they need here: design challenges, showcases, professional materials like textures, 3D models, and so on. There is a section for podcasts that imparts tips and techniques for creating the most stunning architectural renders and animations. You can even download demos for the latest software and tools and try them out before you buy them.
A worldwide community of 3D artists uses this platform to post their works and showcase them to a global audience. Those looking for inspiration for architecture and interior design will definitely find it here. You will find collections of portfolios of freelancers as well as large CGI studios.
As you can see, 3D visualization platforms can be an endless source of inspiration for your architectural projects. We hope our list has pointed you in the right direction so that you can get started on your search right away!
If you'd like to get your architecture projects depicted in photorealistic CG renders and 3D videos, do connect with the experts at Rayvat Visualization Studio!
Call us at +1-888-863-4445 or email us at engineering@rayvat.com