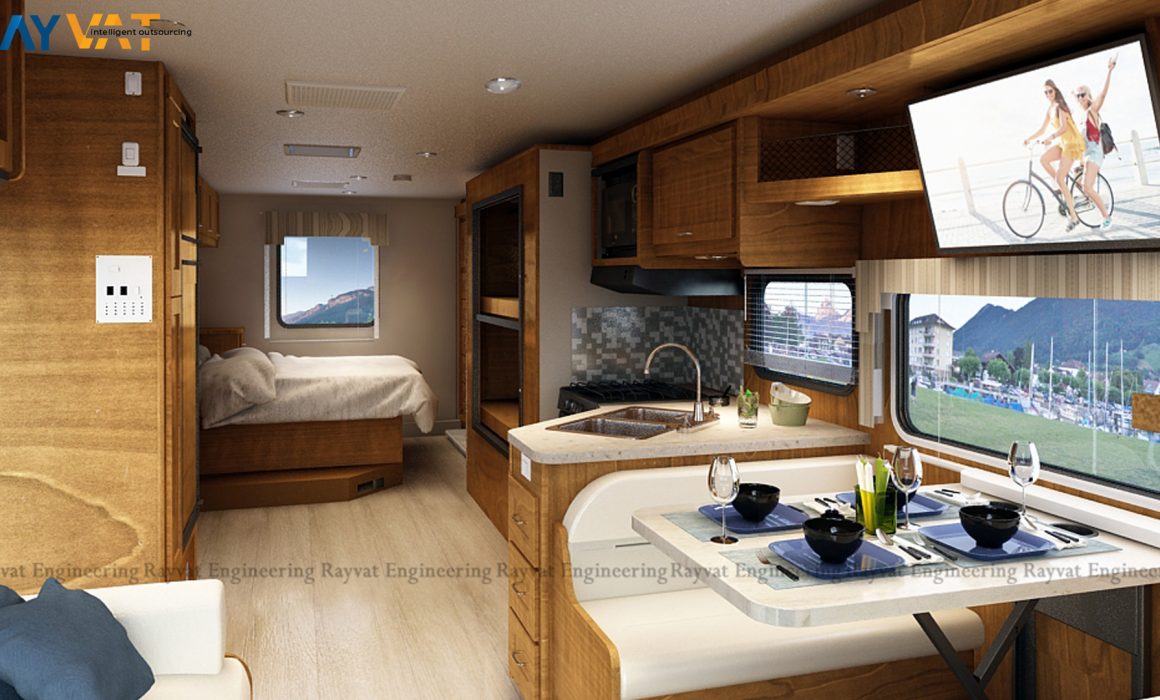 Motorhome 3D Rendering, Ever thought of living it up in the woods? This client's Interior Design Firm of ours helps customers explore the outdoor lifestyle, enabling extraordinary experiences as they travel, live, work, and play via a focus on unmatched innovation, quality, and service. Throughout the 3D Architectural Visualization project, We endeavored to capture the legacy of the client, which has a rich tradition of 75 Years in the 3D renders.
For example, in this Motorhome 3D Visualization project, the client provided us with the 3D Wireframe model and the materials, textures, and interior design elements like upholstery, etc. We were asked to create a scene where the 3D Architectural Visualization Motorhome parked in a natural setting beside a natural lake.
3D Visualization – Motorhome Interior Design
Based on the inputs, we created the draft render in a timeframe of 6 business days. Subsequently, after a couple of refinements, we were ready to deliver the project. The Motorhome Interior Design Software being used were 3DS Max along with V-Ray Plugins and post-production being carried out via octa-z plugins.
Get in touch with us to explore how Interior Design Visualization Techniques can help your clients visualize the project in a natural, lifelike manner.
Call us at +1 (888) 863-4445 or Skype at: Rayvat.engineering
Email: engineering@rayvat.com