Rayvat Rendering Studio provides specialized assistance to US-based clients for their Architectural, Interior Design, and Property Marketing requirements. We offer an entire spectrum of services spanning Architectural Visualization (Renderings), Animation (Fly-Throughs, 3D Walkthroughs), and Virtual Reality.
Estd in 2007, Rayvat Rendering Studio has been an able partner for clients across the USA, helping realtors across the complete life-cycle of real estate ranging from Pre-Development, Development, and Post Development stages via Conceptual Design Presentations, AutoCAD Drafting, 3D Building Modeling, 3D Visual Imagery, and 3D Walkthroughs. Trusted by over 500 clients in the USA, we strive to position ourselves as a single-stop service provider for all Real Estate marketing needs.
With our high-quality deliverables, you can expect:
Improved footfalls, manifesting into 6X faster sales.
Stronger ROI across marketing channels like Facebook, Instagram, Vimeo, etc.
Enhanced brand equity resulting in sales price premiums
Some of the Prominent Clients we Serve are:
Nation's Largest Homebuilder Group.
One of the World's Largest Brokers of Real Estate and Collectibles.
Largest Real Estate franchise by Agent Count in the World and many more.
Call us Today to discuss your 3D Architectural Rendering or Animation needs for projects around Irvine, California
Case Project of 3D Interior Rendering in Irvine, California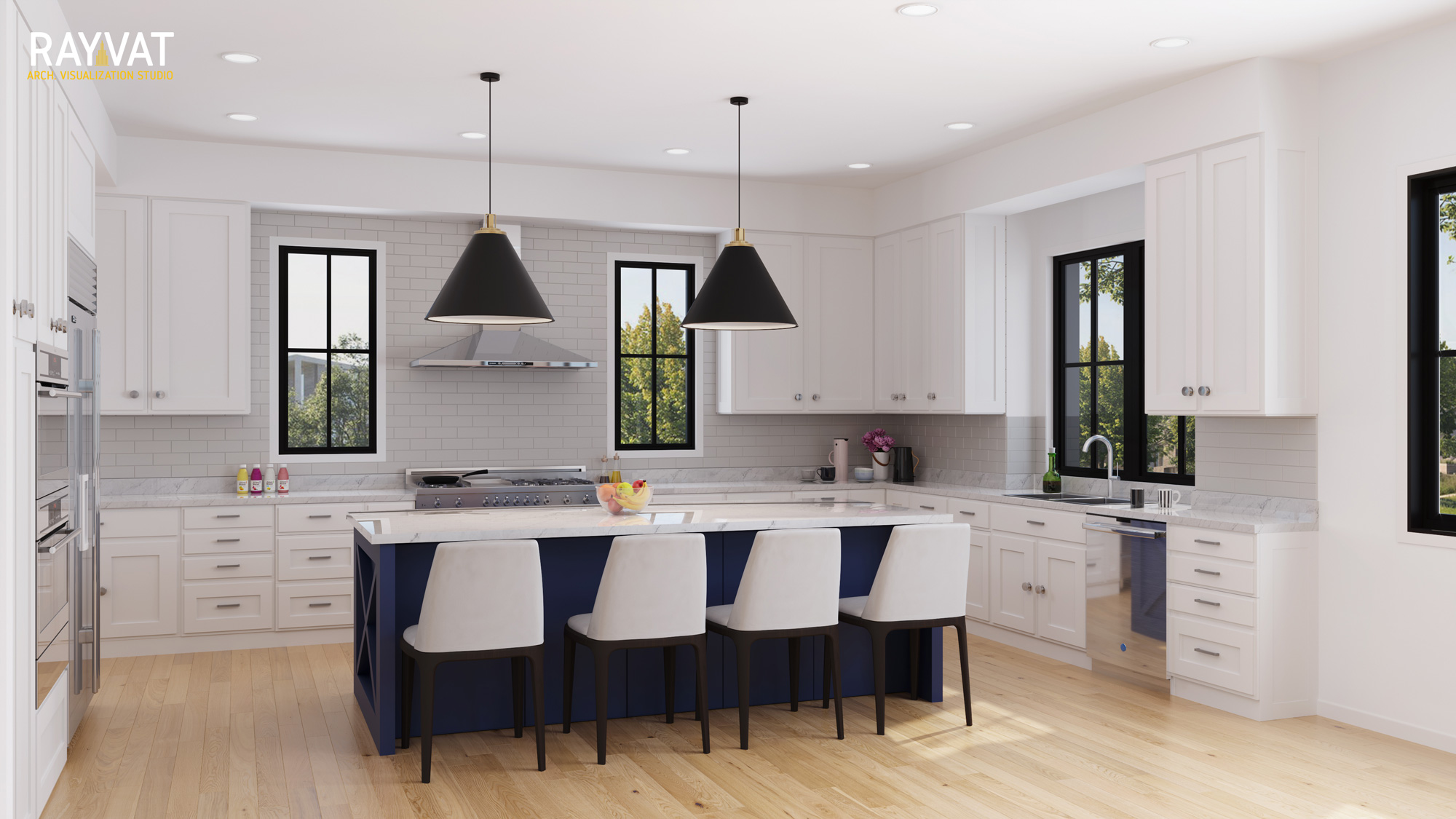 Project Description -If you are living in Irvine, California, rush hour traffic is not something that you have to worry about. As one of the largest and most well-planned communities in California, Irvine has a beautifully plan town centre and ranks high among the wealthiest places to live in the country. There are many well-known institutions of higher education and tech industries here which boost the economy, making this city a great place to live, study and work!
We bring you a 3D image of a charming suburban kitchen in an Irvine home. The spacious kitchen boasts plentiful ventilation on two sides, with large sash windows that look out into gorgeous views on either side. Designed using a palette of black and white, the décor is simple and elegant. The layout strictly follows the Golden triangle design theme, with the fridge, sink and cooktop at three corners of an equilateral triangle. The island counter also houses the breakfast bar and is lit from above by conical pendant lighting. Neutral ash-coloured flooring offers the only other colour relief in this stark, two toned colour palette. The kitchen is functionally efficient and aesthetically pleasing; indeed, a designer's delight!
Client Inputs – For this image, the client supplied with the floor plan, furnishing plan, details of flooring material, walls, tapestry along with furnishing references and lighting plan.
Timelines – The complete project comprising of 3 Images; Living cum Dining, Bedroom and Kitchen was completed in 8 business days comprising of 2 rounds of feedback/markups leading upto final 4K quality HD rendering. The first drafts were submitted in 5 business days.
Process Flow – To understand the complete process of 3D rendering comprising of inputs, intermittent draft, and feedback, and final render can be accessed here: How it Works
Softwares Used
3D Modeling and Rendering

– 3DS Max and Corona Renderer
Post Production

– Octa-Z Plugins and Photoshop CC
Markups

– Lightshot
Pricing – The pricing for executing the 3D Interior Rendering for the above image was $345 lumpsum.
Do Contact Us for any of your requirements in 3D Rendering Services for Irvine, California across Architectural Visualization, Animation or Renderings.
Scope of 3D Rendering Services for Irvine, California
At Rayvat Rendering Studio, we understand the potential impact our clients want from the 3D Renderings and go all out of the way to make sure the deliverables surpass client expectations each time they contact us. There are main 5 types of 3D Rendering options for Property Developers for Colorado. These include the following:
3D Exterior Renderings – 3D Exterior Renderings focus on the exterior of the property and the surroundings. As options, you can choose to focus only on the building in question or get a render that includes the surrounding neighborhood and features like fences, waterbodies, porches, and vegetation. As a Property Developer, you may want to try around with lighting conditions (Morning/Daylight/Dusk) or weather (Rainy/Snow), etc. which can manifest into highly impressive marketing collaterals.
A 3D Exterior Rendering reflects, generates ideas, and helps communicate with the proprietors and management and finally enforces them with their designs. With the utilization of 3D Exteriors, they can easily get prospective photorealistic designs and carry out their. Realistic design projects comfortably and easily.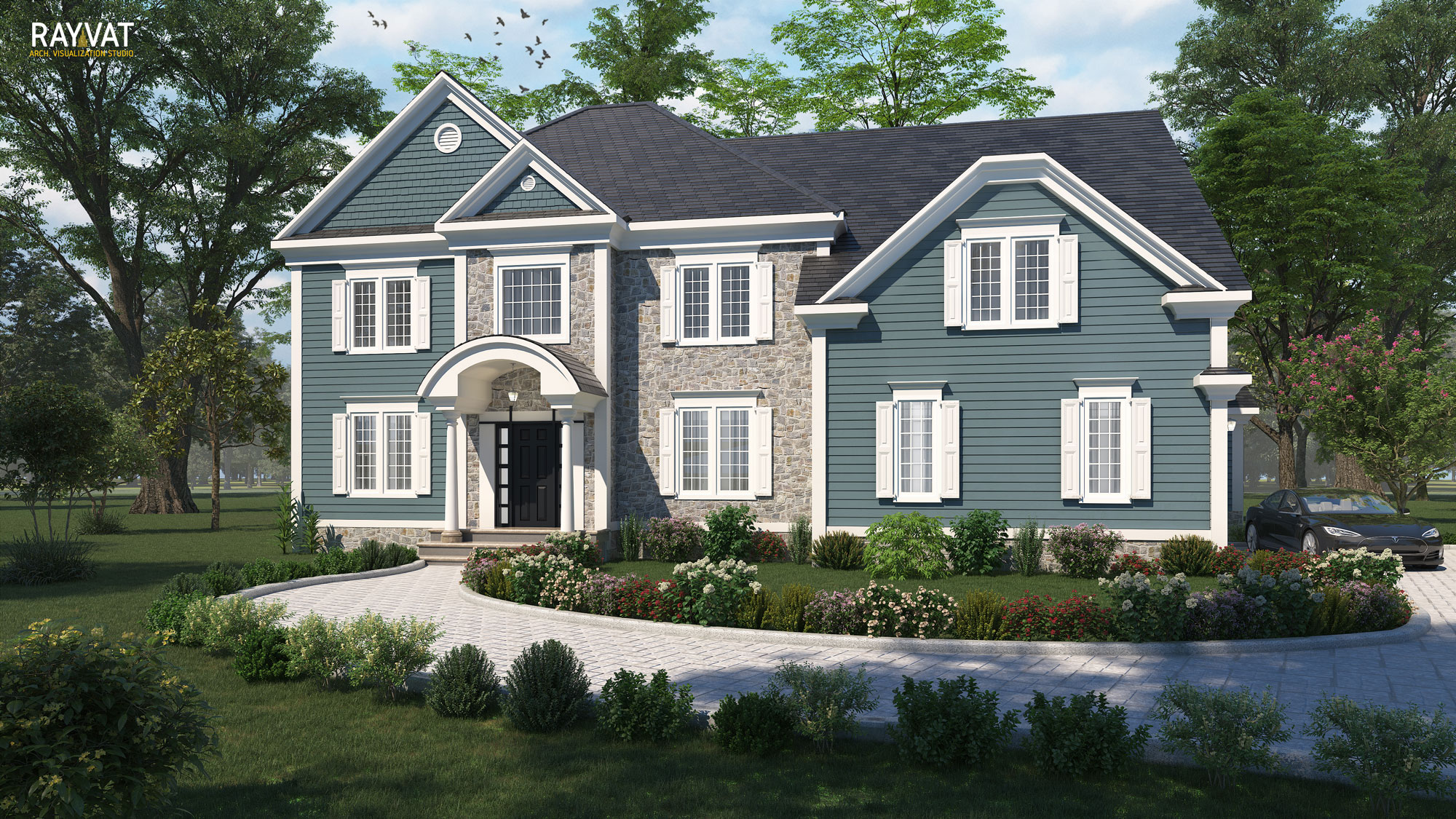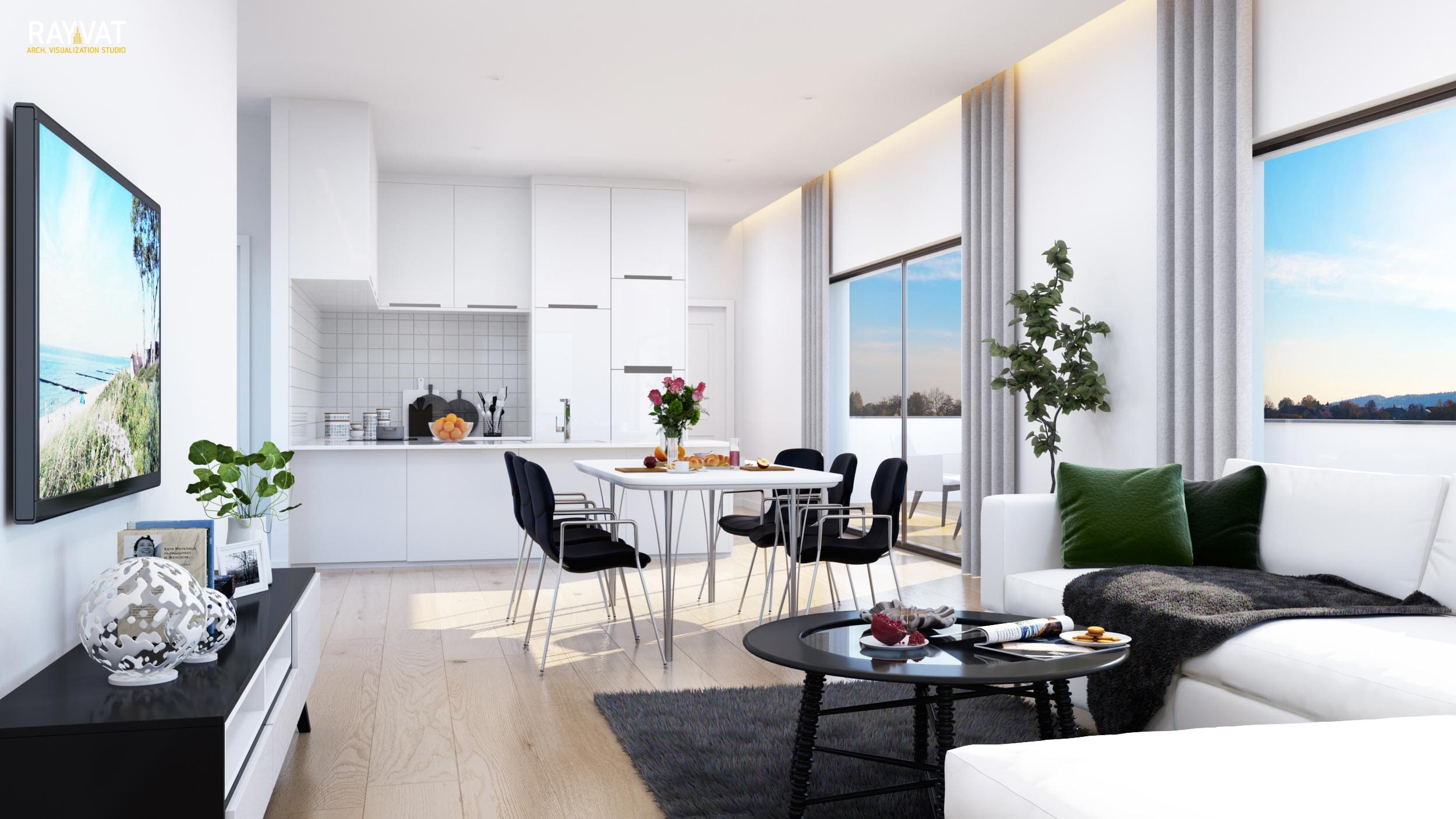 3D Interior Renders – 3D Interior Rendering encompasses everything inside; home right from doors, furniture, indoor painting, carpet and rug placement, bedroom, drawing room, dining room, washroom, and so on. One of the crucial facets of 3D Interior Design is that it reflects photorealistic models of the inside of the home.
Interior Renderings show the vantage point of the interiors of the property. Developers can show one room at a time or a view that captures multiple areas like hallways, doorways, and arrangement of different amenities in the lobby. Avail 3D Interior Renderings to showcase different options to the client/buyer before zeroing down on the final option consisting of flooring, wall colors, furnishing, décor, and lighting.
3D Aerial Renders – 3D Aerial Renderings showcase the property from the considerable height above, and they typically focus more upon the adjacent environment surrounding the building. They're useful for showing how the new building will fit into the existing environment.
An aerial view is a useful tool to depict area maps along with all the details like roadways, allied buildings, and the general topography. For more significant projects like townships, commercial parks, etc. this adds value by showing a view encompassing all the buildings and show how they merge with the surroundings.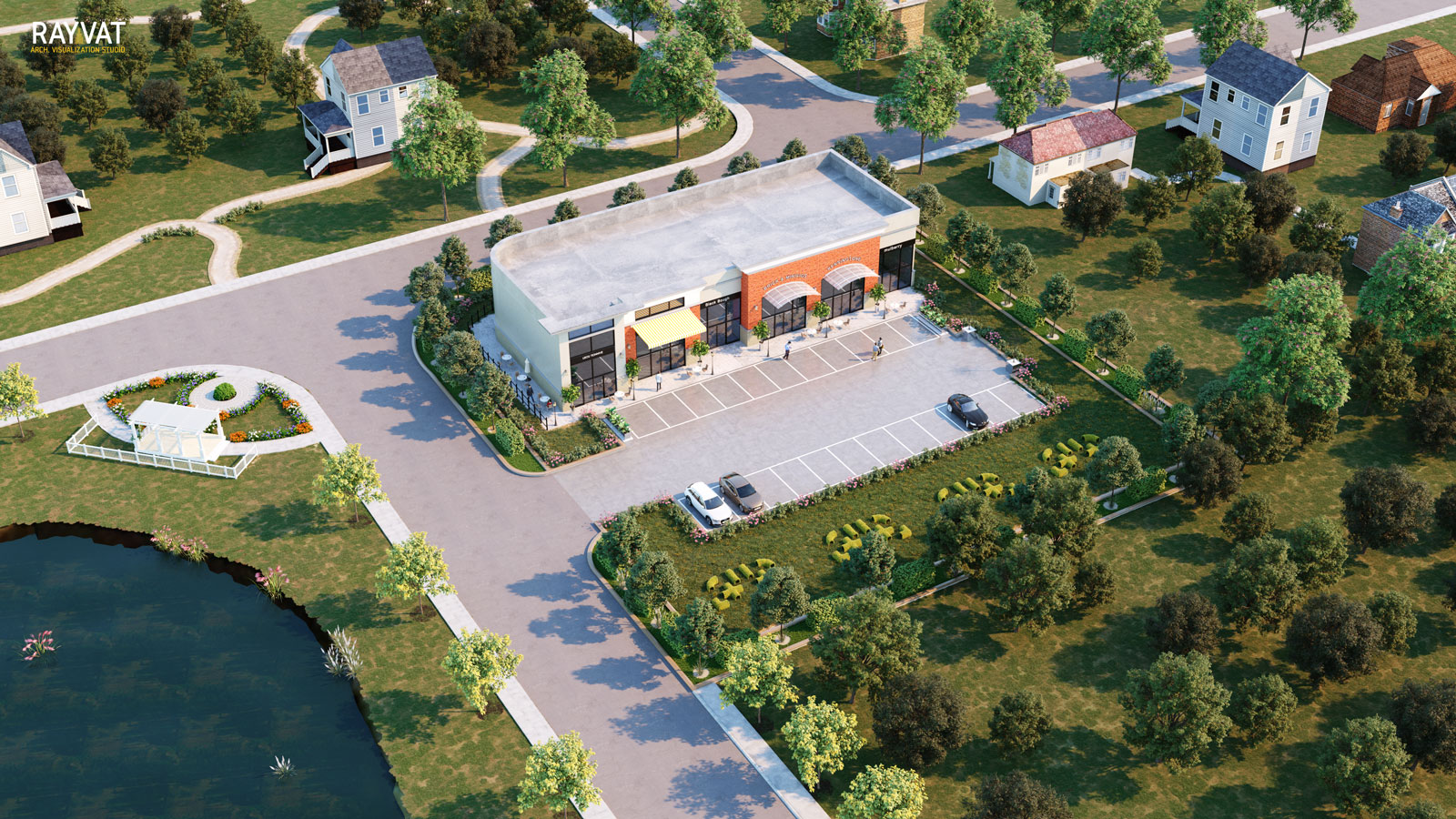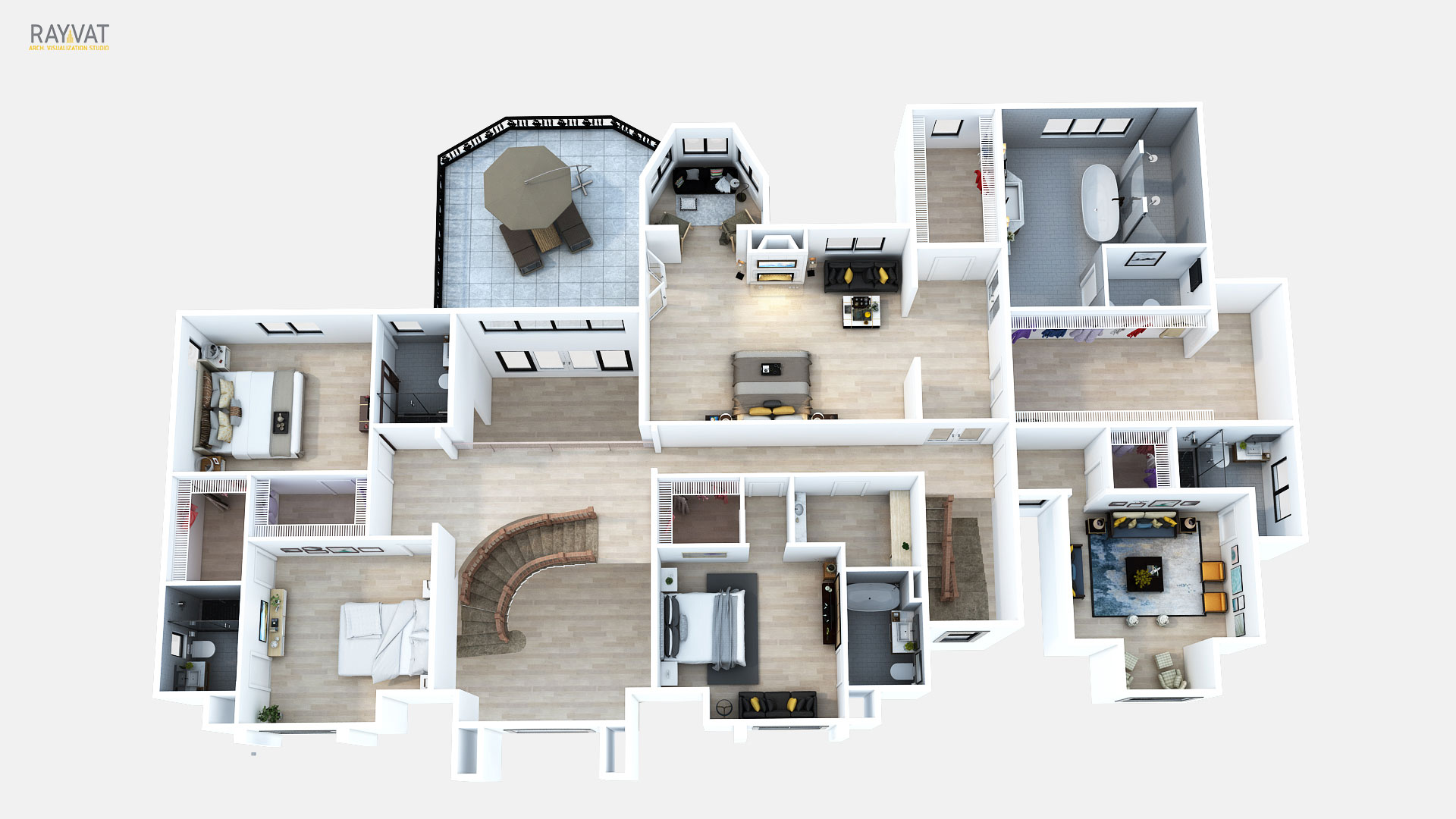 3D Floor Plans – 3D Floor Plan renderings give depth and detail to traditionally used 2D Floor Plans. These types of floor cut Renderings allow potential buyers to envision themselves in the home or building and understand the spatial arrangement of various areas within the property.
For competing properties in the same neighborhood, very critical factor buyers see how the different areas like Kitchen, Bathrooms, Living Area, etc. are arranged within the property to create a sense of comfortable living. Add High Quality 3D Floor Plans to improve the positioning of your listing and make it stand out. This will allow you to convert more online visitors into potential walk-ins.
3D Walkthroughs – 3D walkthroughs enables understanding of every detail of the property by helping potential buyers get different perspectives from all possible angles. Buyers can also get a detailed outline of the texture of the walls, flooring, doors, and windows along with the furniture. Anything plausible can imagine with their property right on the screen for them to experience.
The most value-added deliverable is a 3D Walkthrough that provides a video output whereby the client can take a virtual tour of the property lifelike! This animation helps the potential buyers take a virtual tour of the building before the actual construction process begins. They will get a strong sense of the property's feel, layout, and features.
Frequently Asked Questions
We're excited to hear from you. Contact Us now for 3D Aerial View | 3D Exterior | 3D Walkthrough | 3D Floor Plan or 3D Interior Rendering Services.
1) What inputs are needed to provide a Quotation?
To provide a quote for your project and give you a timeframe, we will need from you technical drawings, sketches, references, photos, or any other material we can use to understand the complexity of the buildings and neighborhood.
Also, we need to know some other information about the project, that are indicatively
– the requested number of images
– if you need Interior, Exterior, Aerial views or Floorplans
– if they will be daylight/night-time or both
– if you need videos/animation or another kind of products
– number of buildings to develop
– possible deadline
2) What is the typical pricing structure for 3D Renderings?
In terms of pricing & timing, we charge between $250 to $750 per image, depending on what information is provided to us when starting a job (3D model files vs. CAD documentation), the level of scale & complexity, number of images, and the turnaround time. If we are given a complete 3D model file of the house (in other words, we only focus on the lighting, texturing, and post-work), they will run an average of $300 to $450 per image.
3) What are the typical timelines for 3D Renderings?
In terms of scheduling, we recommend between 7-12 business days per view to give you plenty of room for back & forth.
4) How many feedback rounds are included?
We provide three rounds of feedback within the pricing mentioned above. Additional feedback rounds can be charged extra.
5) How do you accommodate design changes/custom requirements?
In situations where designs are changed, the pricing can range from $20-50 per change in design. Minor changes in design are accommodated free of cost. For custom requirements, such as furnishing, décor items to be used in renders, an additional price of $30-75 per element can be envisaged.
6) What is the process flow for the 3D Rendering Service?
The complete process flow for 3D Renders comprising of collation of inputs, artistic brief, and modeling, three rounds of feedback, and final submission can be referred at the How it Works page here.
7) What is the Quality of Final Deliverable?
The deliverables are submitted in 4K Ultra HD resolution. If higher sized deliverables are needed, it shall be charged additionally.
Let us know if we can explore the collaboration possibility for your 3D Rendering needs. We look forward to assisting you best!
For enquiries on 3D Rendering Services in Irvine, California, please contact us at engineering@rayvat.com or +1 (888) 863-4445.
3D Rendering Services for Property Developers in Irvine, California
At Rayvat Rendering Studio, we're experts in all aspects of 3D Renderings for property developers. We can execute 3D Models and renders that work flawlessly for architectural, civic approvals, home builders, or real estate agencies at large.
It's our constant endeavor to exceed client expectations and equip them renderings that can be used beyond the project completion date. With the experience of executing 3D rendering projects worldwide, we're ready to handle property developer client's needs, no matter where the project is.
We have an express option available for clients who come in with a tight deadline. Our team specializes in executing the 3D Renderings within 48-72 hours, and sometimes as quickly as overnight.
Contact Rayvat Rendering Studio for your 3D Rendering needs in Irvine, California today!
Our team is ready and waiting to help you start your 3D Renderings today! No matter which type of 3D rendering you need or how quickly you need it, we're here!. You can give us a call on +1 (888) 863-4445 or fill out our Quote Request form with your relevant details. We look forward to working with you!
We look forward to working with you!
More California Service Areas