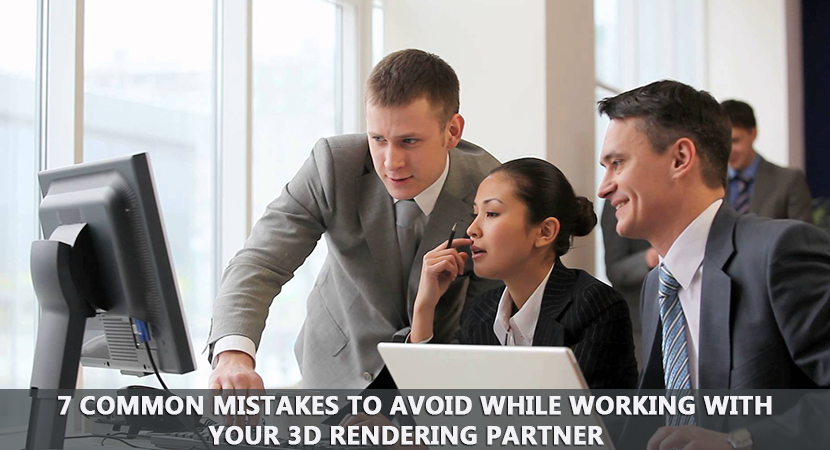 3D architectural renderings are undoubtedly a great idea. The stunning presentations that are made possible through this medium are handy marketing tools for builders and developers. Architects, too, can showcase their designs and explain their concepts more clearly through 3D renderings. To get the best results, you should work with a 3D Rendering Partner who is experienced and versatile, and willing to go the extra mile to give you breathtakingly photorealistic images.
There are a few things that your 3D rendering partner would like you to know so that you can both be pleased with the final results! Here are some of them.
Be Clear About Your Expectations
At the very outset, you should be clear about your timeline and how many drafts you would expect. Each selection would have an associated cost, and you should discuss budget considerations as well as upfront. Ask your renderers how flexible they would be and how willing they are to change camera angles and lighting according to your inputs.
Do plan your Schedules properly!
We understand that you are under pressure to meet your deadlines. However, remember that Renderers aren't your Designers, so unless you have at least 95% of your design details inputs for 3D rendering services in place, please do not expect them to guess which fittings and fixtures you need, or what facade you have in mind. They can work faster and give you a better visual if you do not rush the project over, expecting them to start work before the design is even completed!
Fill in as much detail as You Can
To eliminate guesswork and ensure that the image created looks like the image that's in your head, please make sure that you give your 3D Rendering Team sufficient details. Ideally, they should have a full set of final architectural drawings, exterior information like paint colors and textures and window finishes, and interior finishes like flooring, joinery, furniture designs, and electrical knowledge. If you can give them a style guide for the interior design, landscaping schemes, and some actual photos taken at the site, then they can create visuals that are more true-to-life.
Give Reference Images
If you can also supply photographs of furniture and finishes, or the kind of landscaping you prefer, for example, your expectations will be matched. However, too many pictures will confuse the issue, so avoid giving too many alternative options.
Review as Accurately as You Can
3D teams work to pre-set schedules, so it would help if your review of the first render can be as comprehensive as possible. Have your entire squad review the image, including the architect, interior designer, branding agency, and real estate promotion team. Get everyone on the same page when it comes to the changes you need. Sending in different change requests, many of which may be conflicting with each other, will slow down the work and create a final output that doesn't look the way you want it to.
These are some points you should consider while reviewing the image:
Angle and position of the Camera

Doors and windows of the right size and position

Architectural details and finishes

Colors and material selections

Light fittings and fixtures

Tile sizes and flooring finishes

Time of day indicated- night or day- shadows and direction

Background landscape

Furniture style and colors

Wall cladding, balcony railings, staircase balustrade details
Also, review the level of detail offered. Is it adequate for your needs?
Your feedback should be Accurate
A couple of iterations may be needed to get the image perfect, and your 3D rendering partner understands that. Ideally, if you could redline the image or mark the changes you require with arrows pointing to the right places, they could follow up on exactly what you need them to do.
Providing the right markups for 3D Render Visuals are very important, so please be clear in your instructions. Feedback like, "This carpet doesn't work for me" is not going to help! Please send a picture, or a sample, of the carpet that you have in mind. The more clear your feedback is, the more quickly they can get to your final render.
Hire the right person!
While this may seem all too obvious, it isn't. Do check out the style of work that the renderer has done in the past, and ask to see their portfolio. If you are looking for high-quality 3D Rendering Services with specific styling, then you should pick someone who has done similar work. There can be a huge difference in the quality of renders, with final images ranging from views that look picture-perfect, to those that look like a wrong version of a video game.

Ask for references from their past clients. Did they complete the work on time? Did they accommodate feedback and change requests from the clients? Did they understand instructions easily?

Hiring the right 3D Visualization Partner is not without its own set of challenges; however, by following these tips, you can avoid most of the common pitfalls. To derive the highest value from 3D imagery for your projects, to engage with experts in the field like Rayvat Engineering, who has over a decade of valuable experience in the areas of Architectural Visualization, Animation and Drafting, and Modelling.

Contact here for the 3D Rendering Partner.