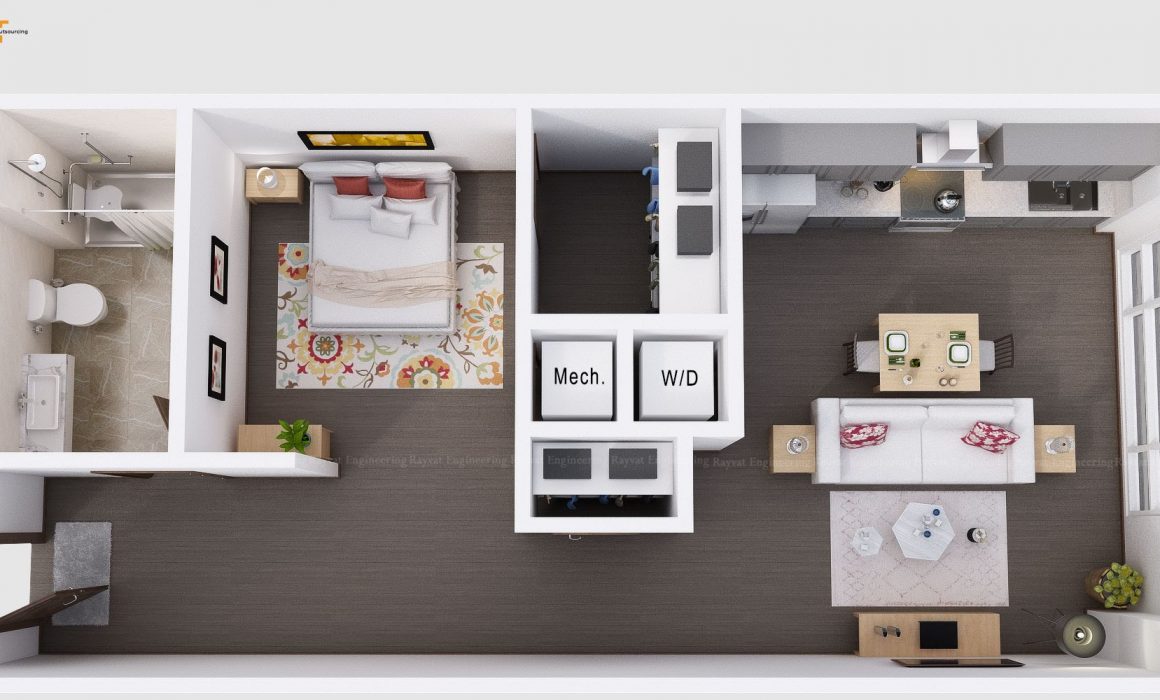 The real estate market is nothing if not competitive, and to capture the market and get value for their listings, real estate agents must use every bit of innovation at their disposal! It's very important to market property listings to the right audience, and it's even more important that the audience should be able to assess the value of the property just by viewing the listing online. This is where 3D House Floor Plans can help.
What is a 3D Floor Plan?
A 3D Floor Plan is one where the floor layout is depicted in 3D and includes depths, heights, and perspective. Even a layperson will find it very easy to look at a 3D House Floor Plan, visualize the spaces and judge the sizes of the rooms. Designers can add colors, textures and realistic material finishes so that potential buyers can get an accurate understanding of the property.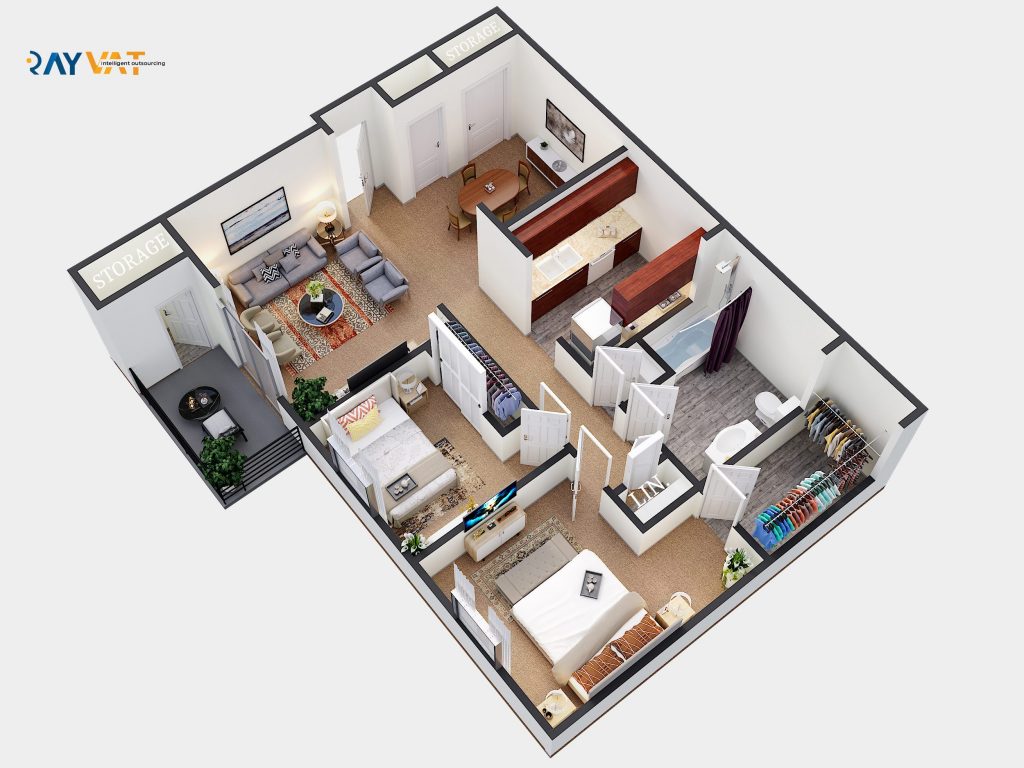 What are the Advantages of creating a 3D Floor Plan?
3D Floor Plans add immense value to your property listing in many ways. We highlight some of them here.
#1 Easily visualise the potential a property holds
Most individuals find it very hard to visualise spaces on paper or when described in words. With a 3D Floor Plan, however, it becomes very easy to conjure up an image of the space orientation and the dimensions of rooms. As furniture is also shown in the layout, your customers will get a fair idea of how much circulation space is available in each room as well. They will be able to conceptualise whether the spaces will work well for them or not.
#2 Get your Property Listing Noticed!
When comparing two online listings, customers will also prefer to look at one that has a well rendered and detailed 3D plan, rather than one that only shows a few photographs or a 2D Plan. Photos can be deceptive, but 3D Plans that are drawn to scale will always give the correct picture of available space. Breathe life into your online listings and grab viewers' attention!
#3 Understand how the spaces will work together
Just looking at a House Floor Plan, customers will be able to understand how the property looks in real life. Everything is scaled down accurately, and they will be able to see all the exits and entrances, the positioning of furniture, floor and wall finishes and colors and even the furnishings. Potential customers will be far more likely to call and arrange a viewing if there is a well-rendered floor plan on your website.
#4 Simplify Decision Making
When there is an accurately depicted House Floor Plan that is rich in detail and imagery, customers can easily compare and contrast several properties and narrow down their decision making more easily. They will be able to shortlist properties that they would like to visit, without going to every single property in the area.
#5 Highlight all the Best Features of your Property
A plan shows your house in the best possible light and gives a bird's eye view of all the important features of your property. It draws attention to the overall layout and the spatial flow between rooms. Exterior Features like garden landscaping and water bodies and interesting interior design features can be showcased to advantage on the plan.
#6 Save Time and Effort
If your property listing is very comprehensive and gives a clear picture, you will find that many more customers are ready to line up to view your sites. In fact, once you throw in a video and some actual property photographs as well, they may not even need to visit the property in person! If your customers can make their rental decision from far away, considerable time and effort can be saved for everyone involved.
#7 Get Multiple Views from Different Angles
Customers will be able to view the property from multiple angles and get a very clear picture of how it looks. The house floor plans can be rendered in photo-realistic quality by expert designers, giving a professional touch to your real estate listing. By getting such detailed information, they will be able to make their final decisions more easily.
#8 Simplify Interactions
Once your potential tenant has gone through the 3D Floor Plan in detail, you will find it far more easy to communicate to them about the positive aspects of your property. They will be able to understand what you are talking about as they will already have a fairly accurate idea of how the rooms are laid out. Your customers gain clear insights without requiring long verbal explanations.
#9 Calculate the floor area easily; leave no room for ambiguity
Quite often potential tenants or buyers are not able to calculate the area of the property and open up a debate on whether or not the area is actually what is advertised. As scaled down floor plans indicate the sizes of rooms, they can easily calculate the area and will trust that they are making the right investment. Reduce ambiguity and increase your sales!
#10 Make your Print Brochures more Engaging
Publishing your print brochures with detailed 3D floor plans will capture the attention of customers and kindle interest in your property listings. Generate leads with a higher conversion rate by using high quality Rendered Floor Plans in print advertisements and on other marketing collateral.
Interested, Get a competitive edge over your adversaries in the real estate market by hiring the 3D rendering services like Rayvat. Allow us to help you create some powerful and impactful marketing material and House Floor Plans, call the Rayvat Team today!