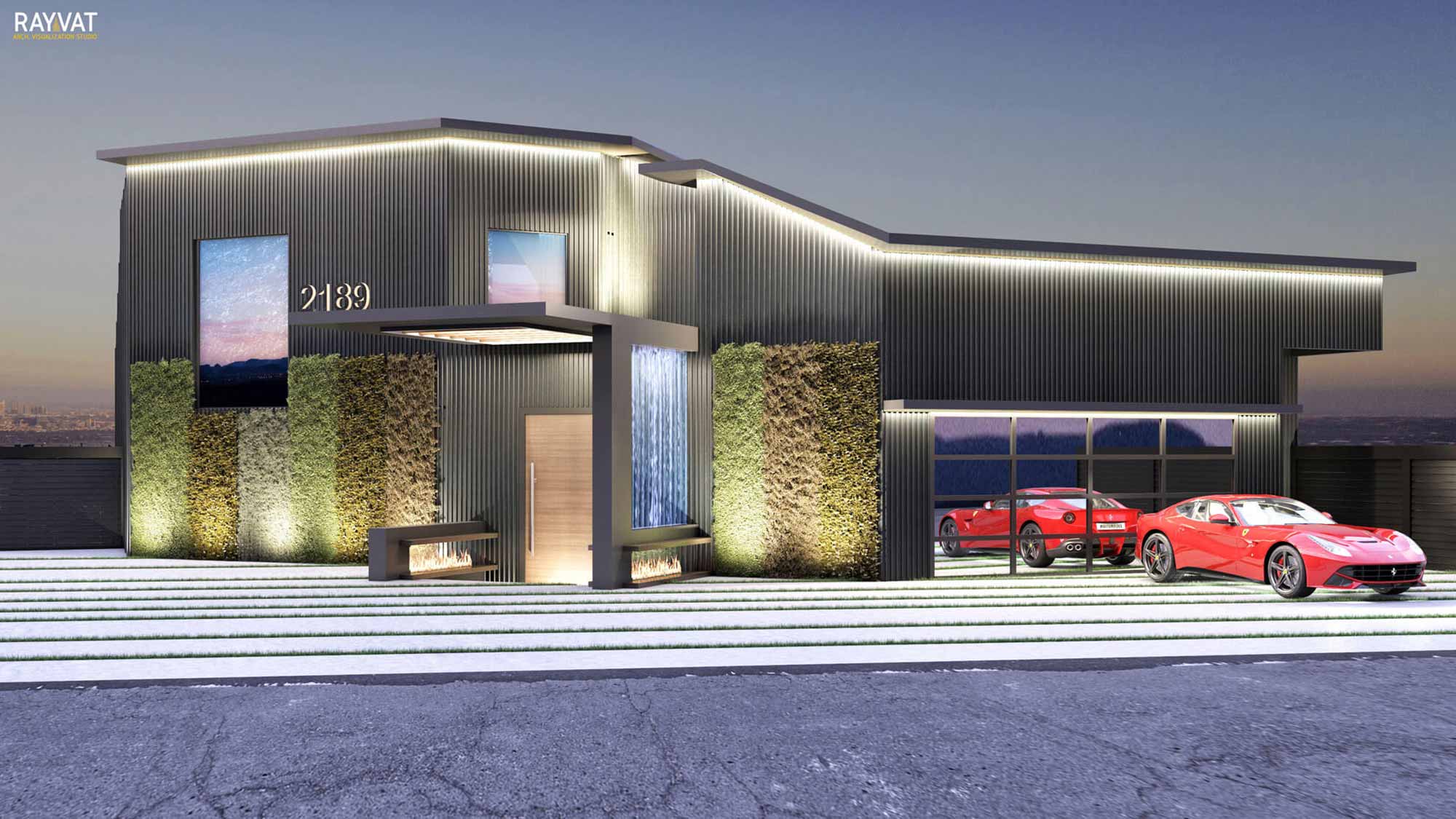 3D Exterior Front Render of a Luxurious House - Los Angeles, California
As an Architect, you are expert at designing the house right from exteriors, landscaping to the interiors. You probably would have seen CGI's utilized by your peers in some way or the other. Are you thinking of the benefits you can derive by utlizing 3D Renders, 3D Animations or 360 Degree Visualization techniques in your architectural practice? This blog will list down how you can utilize 3D Rendered Visuals for every stage of your project.
Having an experience of 12 years into Archiviz industry, Rayvat Rendering Studio has been an able partner to Architects and Property Developers wanting to engage CGI's to make their workflow more streamlined and efficient. We list 5 ways you can utilize 3D Renders across different project stages. These practices can make it easier for you to convey your ideas to your team, clients and even construction partners. Lets dive in.
#1. Eliminating the flaws during the conceptualization stage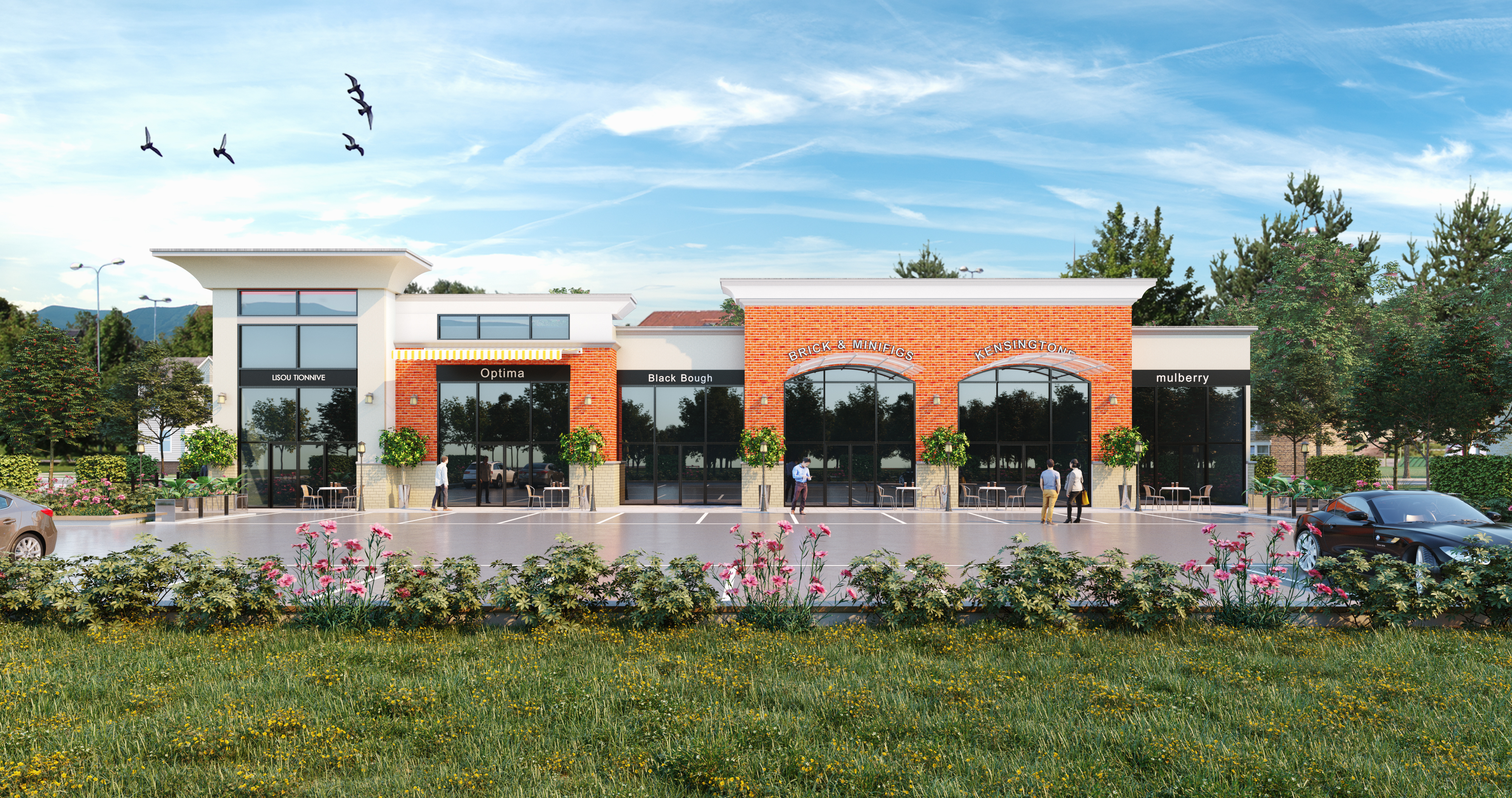 3D Exterior Render of a Shopfront Design - Charlotte, North Carolina
Firstly, you can use 3D Renders to identify and potential flaw in the architectural concept while you are still designing the project. Looking at your idea in a photo-realistic setting allows you to notice the imperfections and adds a layer of convenience to sort out design challenges. For example, you can change the textures of the siding, roofing or change the landscaping plan to suit the project better. Its always helpful to iron out the lacunas in the beginning stage itself.
#2. Concept Presentation to Client via Photo-immersive 3D Renders.
As an architect, it instils a deep sense of confidence to the client when you present high quality, photo-immersive 3D renders even before the construction begins. Its a fabulous feeling to witness the first look of the project for potential buyers. Not only does this help you garner the project, but it also enables the client to actively participate into the design process, thus making the whole project smoothly executable. Your clients will love the entire process and positively collaborate on the detailing as well.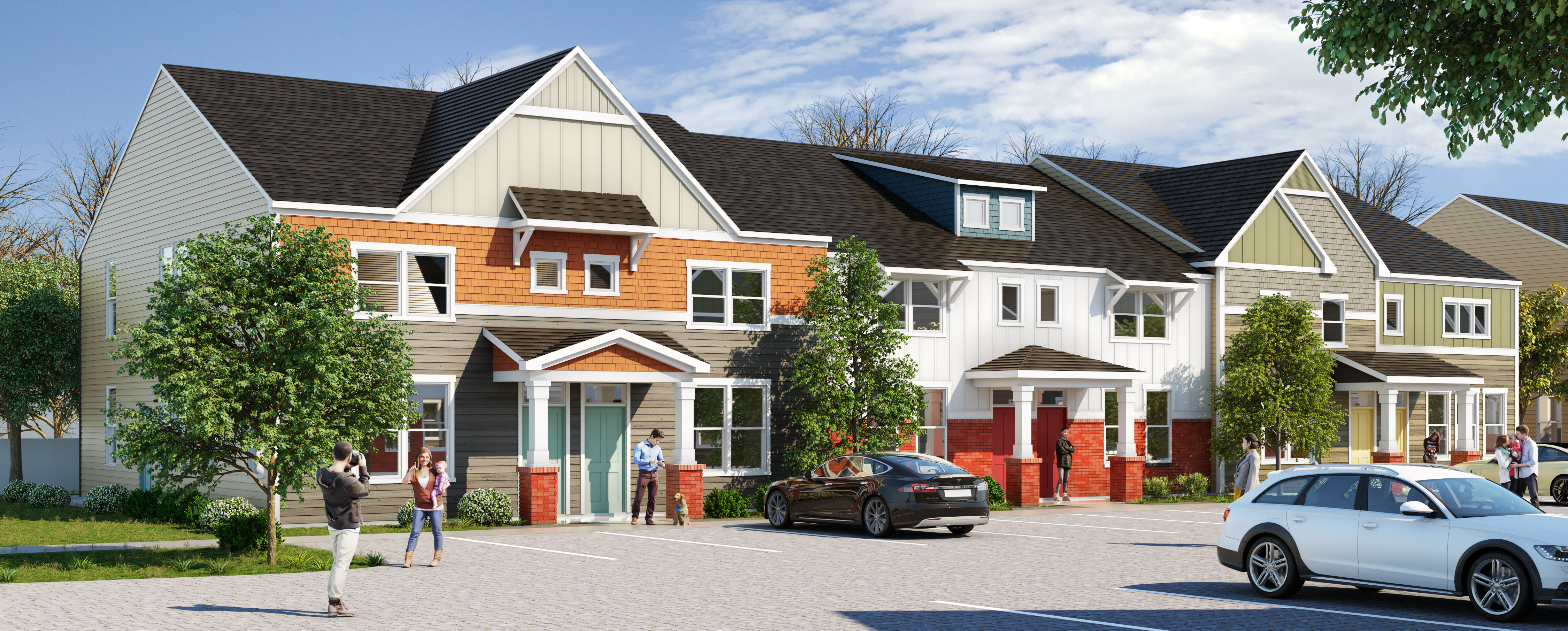 3D Exterior Render of a Townhouse - Vancouver, Canada
#3. Design Finalization : Incorporating Changes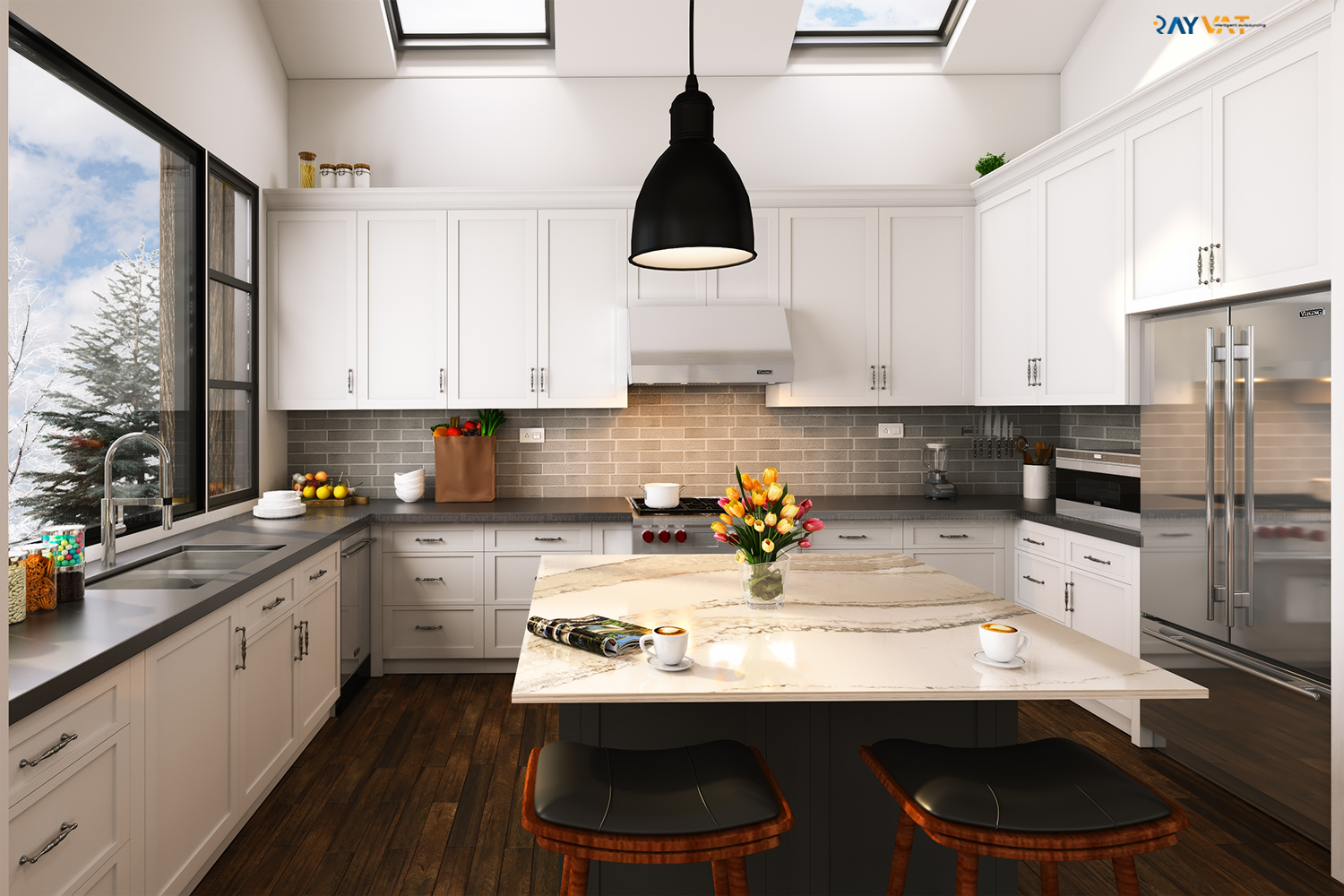 3D Interior Rendering of a Kitchen - Denver, Colorado
Once you have presented your design successfully, you still need plethora of tools to finalize the end-design, that is approved for construction. During this stage, clients can be picky and often want to try a few options before finalizing the design. Building on the conceptual designs, you can progressively elaborate the details in sync with the client needs. This assuages client concerns and portrays your professional expertise. You are sure to obtain referrals from your previous clients into their professional circles helping you develop sustainable business.
#4. Conveying the Exact Idea to Construction Team
How often have you witnessed your details being mismanaged in the actual construction process. Although not a part of standard construction documentation, 3D Renders and CGI portrays the exact details in a lifelike photo that can be readily understood across all construction agencies; be it contractor, painters, interior décor agencies and landscaping contractors. It presents a one vision that enables consistency in design vis-a-vis actual construction. The project contractors avoid costly rework, in-turn enabling smooth project delivery.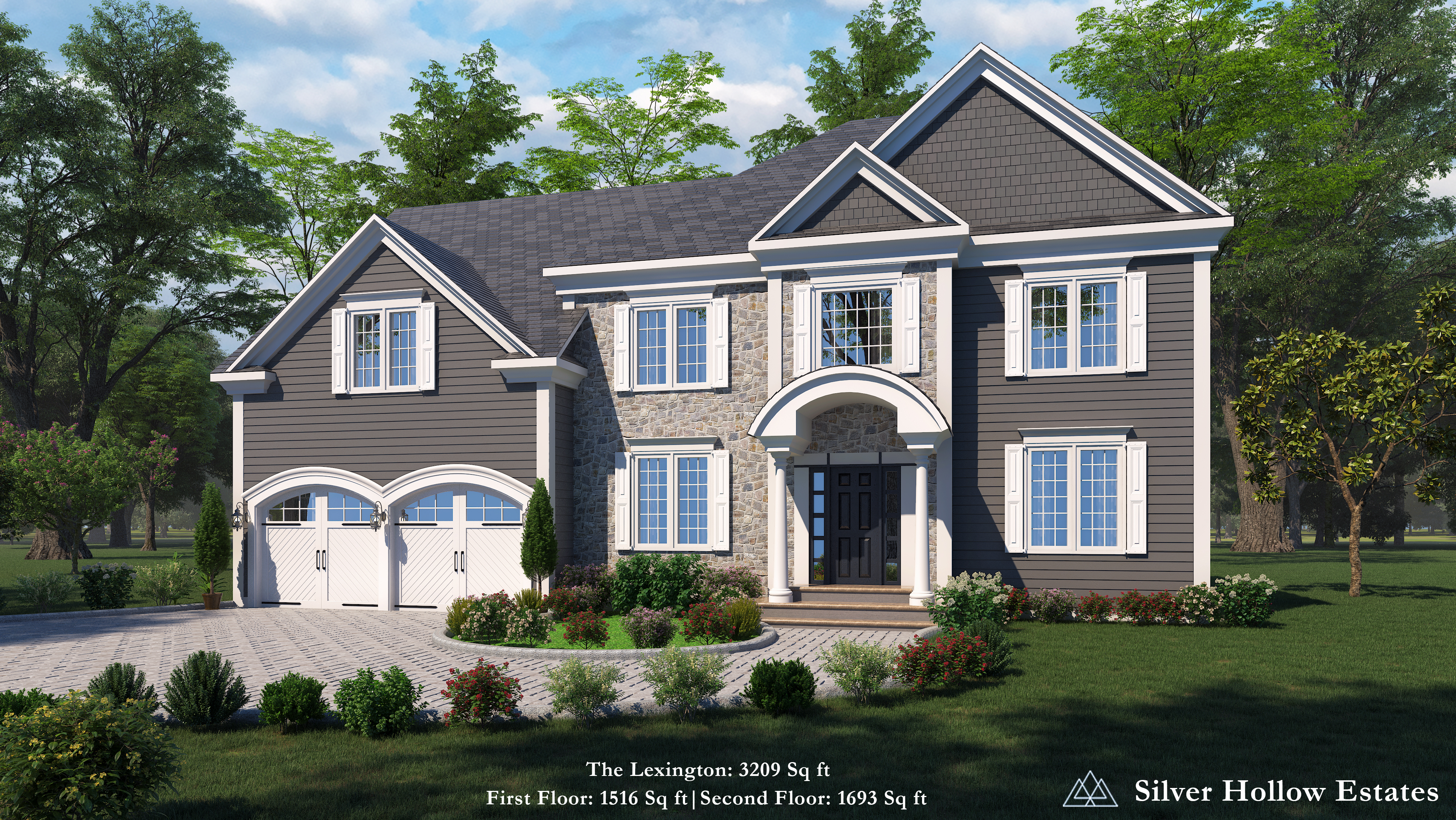 3D Exterior Rendering of a Single Family House - Raleigh, North Carolina
#5. Build Your Project Portfolio and Collaterals.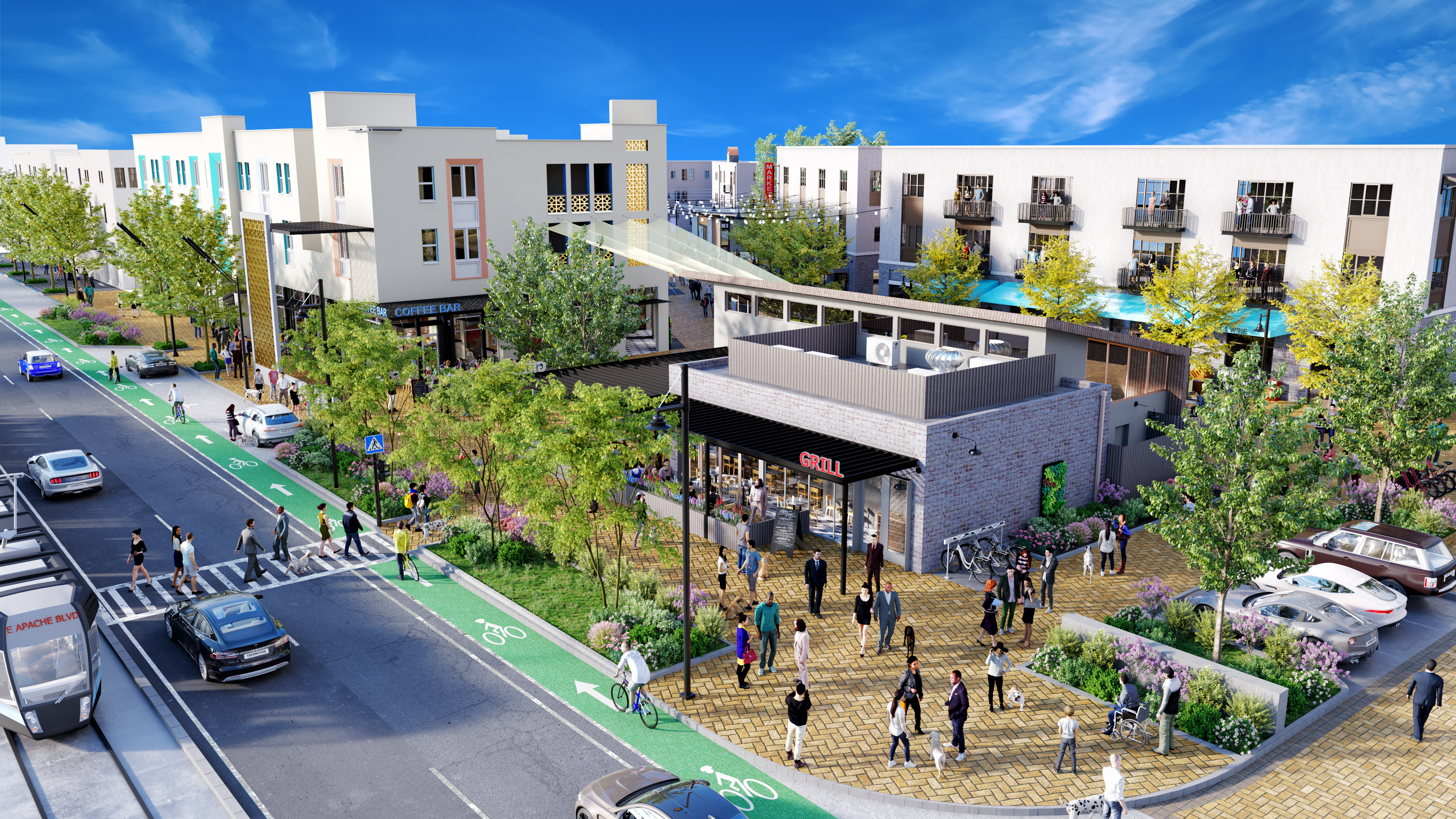 3D Aerial View of a Street Corner - Culdesac Group, Arizona.
In the era of digital marketing, you can always showcase your potential clients your designs in a high quality, professional 3D render. Showcase your entire project pipeline; even the ones in conceptualization to keep your clients hooked up on your professional endeavours. You won't have to wait till the construction gets over to showcase your designs. Also, photorealistic architectural renders or CGI's manifest into amazing marketing content. With a stunning digital portfolio, your work will not go unnoticed!
So, those are the 5 ways you can utilize 3D Architectural Visualization techniques to enhance your Architectural practice.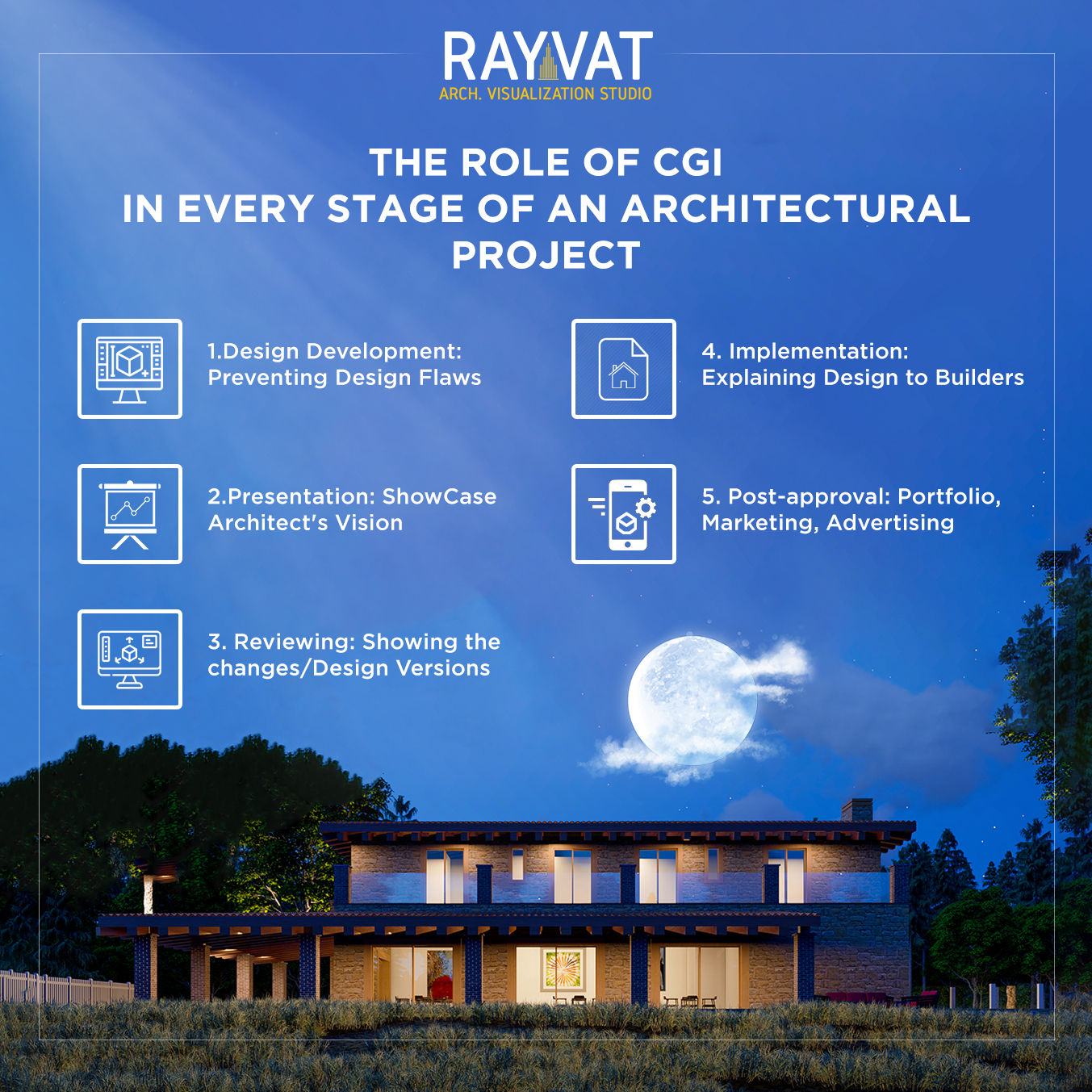 Looking for professional quality 3D Renders/CGI's for your architectural presentations? Contact us at Rayvat Rendering Studio to obtain impressive CG visuals to make an impact in your presentations!