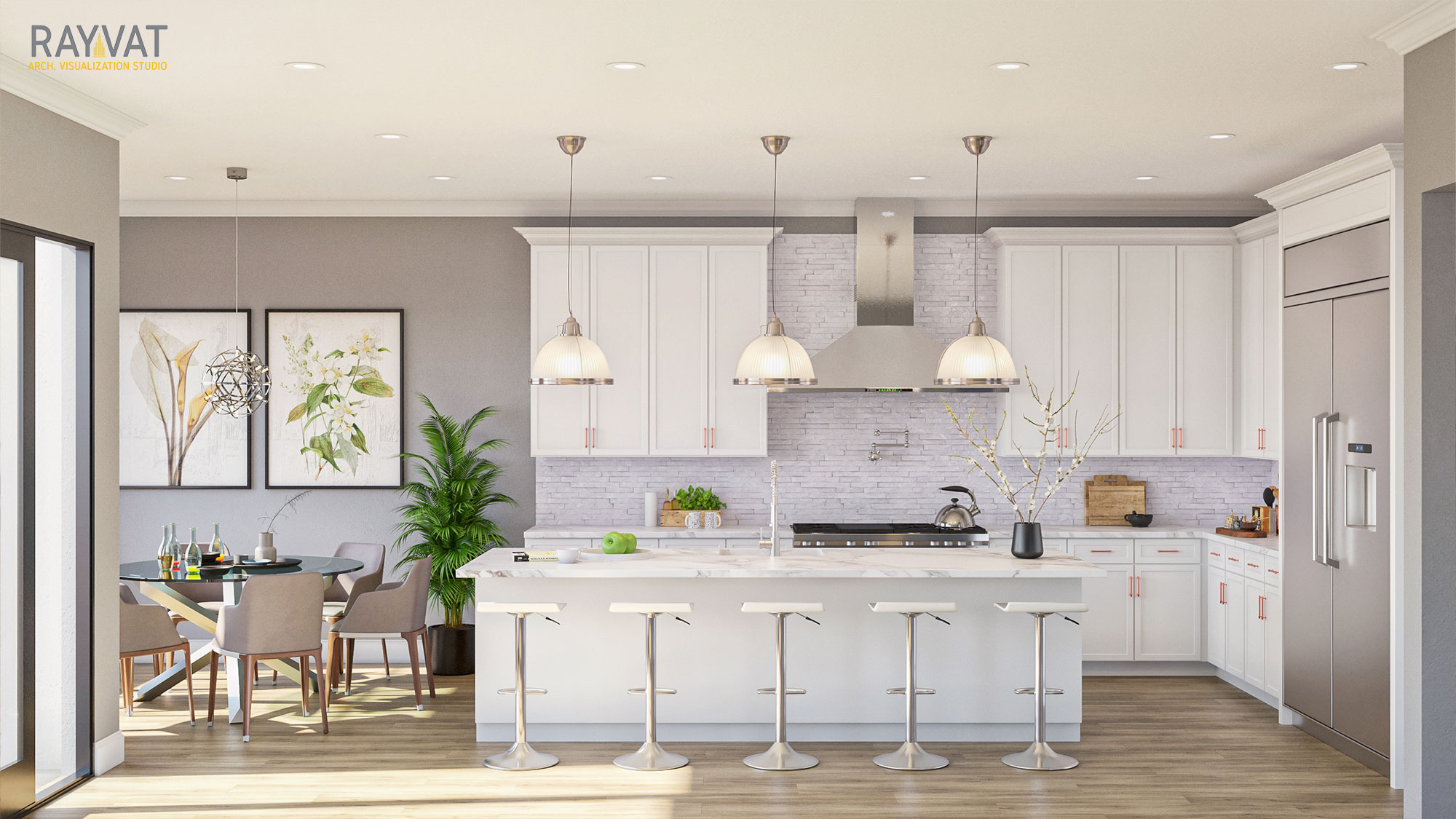 We've all oohed and ahed over those gorgeous kitchens in the glossy pages of home design books. We've agonized, time and again, over how we can get our own kitchens looking even half as sleek and functional as those picture-perfect versions! And in recent times, with the pandemic keeping us indoors much more than we'd like, we've honestly become tired of staring at the same walls all day long.
The kitchen is the place where you spin out delicious meals for your family, but it's so much more than just that. It's the heart and soul of your home—where intense family discussions are held, warm hugs are doled out and work-from-home happens amidst cooking. It needs to look great, feel good and be completely functional, all at once. And while there used to be a time when people liked to have a kitchen that looked like their neighbour's, now the trend is to have a kitchen that's uniquely customised.
So, how do you get a lovely kitchen that's creative and innovative, infused with your personality, and completely different from anything out there? Here's what kitchen design pros suggest, so you can up your kitchen game!
#1. FLEXI SPACES AND TECH TRENDS
Interior spaces are becoming more hardworking and multifunctional, and this trend can make a huge difference to your kitchen too. Added to this, home technologies and smart interiors have taken the home décor world by storm. Consider these gamechangers:

Home kitchens can take a cue from professional kitchens and incorporate flexible spaces, where home chefs can multitask. Some possibilities include a workstation sink/ serving station with tiered levels that allow for a knife block with a cutting board, a colander with a sink, and more. Ideally, this is most easily incorporated in a new kitchen, but the idea can also suit a kitchen that is being completely repurposed and is having a new counter put in. The cabinet heights have to be custom created as the different levels will not suit modular kitchen guidelines.
Invest in gadgets that will save energy and conserve precious water resources. Lights that are activated by motion sensors and automatically turn off when you leave the room, faucets that can detect even tiny water leaks and sound a warning, and air conditioning systems that can be automatically controlled to suit your personal preferences are some examples.
A water filtration system that can be fitted below the counter can improve water quality and filter out impurities, optimising the mineral content, pH and metals in the water. You can use the water straight from the tap and reduce the usage of plastic bottles.
The latest tech trends can transform your kitchen from the mundane to the exciting. Some interesting options that you could explore:
Alexa enabled controls for the faucet, that can be programmed to fill the exact amount of water for a sippy cup or a gym flask,
A smart refrigerator that takes a snapshot of your veggie tray when you're out shopping for groceries, so you know what to stock up on,
A cooktop that can be programmed to read out recipes as you cook, and remind you of cooking times,
A hood with a camera that livestreams your cooking videos directly to online viewers,
A coffee percolator that can be switched on remotely, so that your coffee is piping hot when you reach home from the office.
And the possibilities are endless!
#2. EASE UP ON MAINTENANCE
Let's face it, with our busy schedules most of us just don't have enough time to spend endless hours in prepping food and cleaning up afterwards. Some of these solutions are absolute lifesavers:

Instead of waiting around for the soda maker or electric kettle to kick in, bar sinks and taps that dispense hot, cold and sparkling water would simplify tasks, and reduce clutter in the kitchen.
Low-maintenance materials such as quartz and Corian rule over marble, soapstone or granite countertops as they are stain free, anti-bacterial and can be easily sanitized, and also do not require repolishing or re-sealing at any time.
A bottle filler that's set in the wall and can be accessed as you're about to leave the home is a great time saver. Connect it to the water filter and you've got a great thing going!
#3. NEW-AGE DÉCOR INSPIRATION
Pristine, all-white minimalistic kitchens have had their day. Décor choices are being shaken up and safe, neutral colour palettes are being discarded for bold colour, material and pattern choices. Get trendy with these inspiring ideas:

Break all the rules, and mix metals, colours and wood together to get stunning visuals. The days of going with complementary colours or all-wood kitchens are long gone. A kitchen that's done up in high-gloss black with burnished gold taps and accents of golden yellow, for instance, could be a showstopper.
Two-tone kitchens are very much on trend. Consider colours that blend well together, if you're afraid of radical change, or go all out and pick bold, contrasting hues for a stunning effect. The island can be one shade and the perimeter another, or there could be a colour difference between the upper and lower cabinetry.
Do away with neutrals and clinical austerity. It's time to choose saturated hues and vibrant shades. Hunter green, fuchsia pink and sapphire blue are examples of colours that make an impact. Make your kitchen the talk of the town!
Celebrate the beauty of natural woods by doing away with laminates and paint finishes. Hand-finished and clear-coated surfaces have a natural, sustainable appeal unlike any other. An added bonus? Natural wood finishes suit just about any décor theme, whether its classical or Scandinavian.
The yin and yang combo of black and white is timeless and guaranteed to never go out of style. Matte black and glossy white, or vice versa, with a thoughtfully curated mix of textures and prints in black and white will never fail to stand apart.
Artisanal touches or vintage pieces that tell a story are much prized for the unique touch they can add to your kitchen. Try hand-painting a mural on one wall of your kitchen, or use antique refurbished wall tiles that aren't available in standard stores. Anything that's different will always be cherished.
The old rules are all being broken, and the choices available in the market are endless. The key to creating a kitchen design that's uniquely yours, is to get the look you love without duplicating something that someone else has already done. It's the little touches, tweaks and twists that really matter.
We hope we've given you actionable tips so you can create a kitchen to die for! Do let us know what you think, in the comments below, and share your décor tips with our readers!