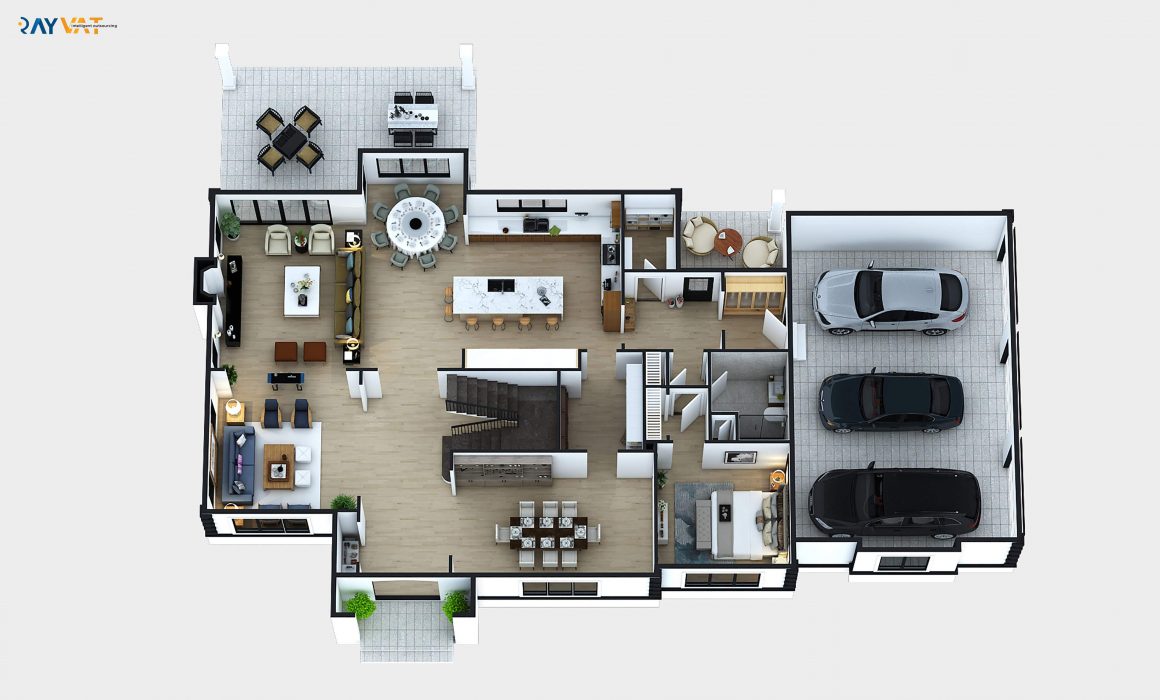 Architects and Interior Designers all agree; good designs will always start with space planning. The importance of the floor plan indicates the layout of the property, as viewed from the top. Drawn to scale, a plan shows the location of walls, doors, and windows, as well as fixed and movable furniture such as kitchen cabinets, sofas, beds, and wardrobes. House plans with exteriors also indicate garden and courtyard spaces, outdoor sheds and swimming pools, and so on.
What is the importance of creating a detailed floor plan? A house floor plan design shows the flow of spaces in a room, indicating the footprints of furniture and the remaining area that is available for circulation. It depicts accurately scaled-down walls, positions of windows and doors, electrical and plumbing points, along with furniture layout.
Types of House Floor Plans
There are two types of House Floor Plans: 2D Floor Plans and 3D Floor Plans. A 2D plan is a diagram, such as a blueprint or an AutoCAD Drawing that is 'flat' and does not show the depth or height of objects. An architecture 3D Floor Plan shows the layout in 3D, that is including depths, heights, and perspective. Because of the added dimension, 3D plans make it very easy to understand the size and layout of spaces. Real estate marketing agents and builders popularly use both 2D and 3D home floor plans during property sales. 3D Floor Plans that are in full color can even show furnishings, textures, and finishing of surface materials to give potential buyers a realistic depiction of the spaces.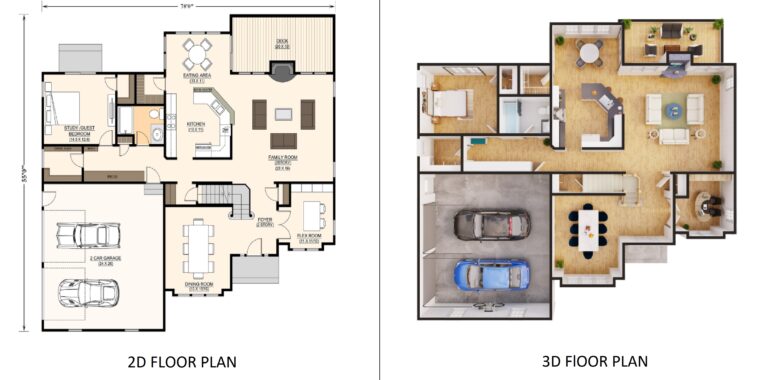 Wanna try creating layout options yourself?
Floor plans can also help you to work out the best interior layouts for your rooms. While architects and designers can create professional drawings, you can also try an easy exercise yourself! If you have a plan that's accurately drawn to scale, you can make cut-outs of your scaled-down pieces of furniture, and move them around within the room to see which interior layout works best for the space available. Leave some space in front of doors and front of cabinets, as you should be able to open the shutters. Place the pieces of furniture where you would like to have them – a sofa against a wall, or overlooking a sunny window, for instance. When you can create a nice flow between spaces, the layout will be easy to use and will also be aesthetically pleasing as well. You can try out various options, keeping in mind the positioning of the pieces of furniture or appliances that you already own and what you will need to buy.
Here are the direct and indirect benefits of getting 3D House Floor Plans for your property.
Get your property listing noticed!
Buying and selling houses has become very competitive these days. Property developers and sellers find that professionally created 3D Floor Plans that include the dimensions of rooms will help buyers ascertain the correct proportion. Real estate listings are highly competitive, and if the listing shows a detailed 3D floor plan, it gets noticed by people who are looking to make a purchase. A serious buyer will give the highest importance to the space plan and how it suits his/her needs. Therefore, the most important element of your listing is undoubtedly the 3D floor plan. when you design floor plans for houses then it helps you in understanding your property design
Plans are accurate and definitive
The architectural design of house plans is more important than photos or descriptions in the listing. Photographs can be deceptive, but plans are always considered to be definitive. Even if buyers are not able to visit the property to make a physical inspection in person, a house floor plan gives a detailed high-res view of the spaces available and enables them to visualize the spaces in a much more optimal way.
Helps Visualize Spaces
Many realtors feel that the absence of a well-depicted floor plan is a significant barrier to sales. Without house floor plans, buyers cannot easily visualize the spatial arrangement and sizing of the home. Many buyers will skip listings where the house floor plan is not included and will be less likely to call to arrange a tour.
Understand spatial relationships
Buyers may also not be able to judge whether the layout suits their needs- for instance, a split-level house will not work well for a family where someone is physically challenged and unable to navigate steps easily. Families with small children will want the bedroom to be close to the nursery so that they can keep an eye on their little ones easily. Those who love entertaining would want a house that has large terraces or decks, and a kitchen that is open-plan and centrally situated.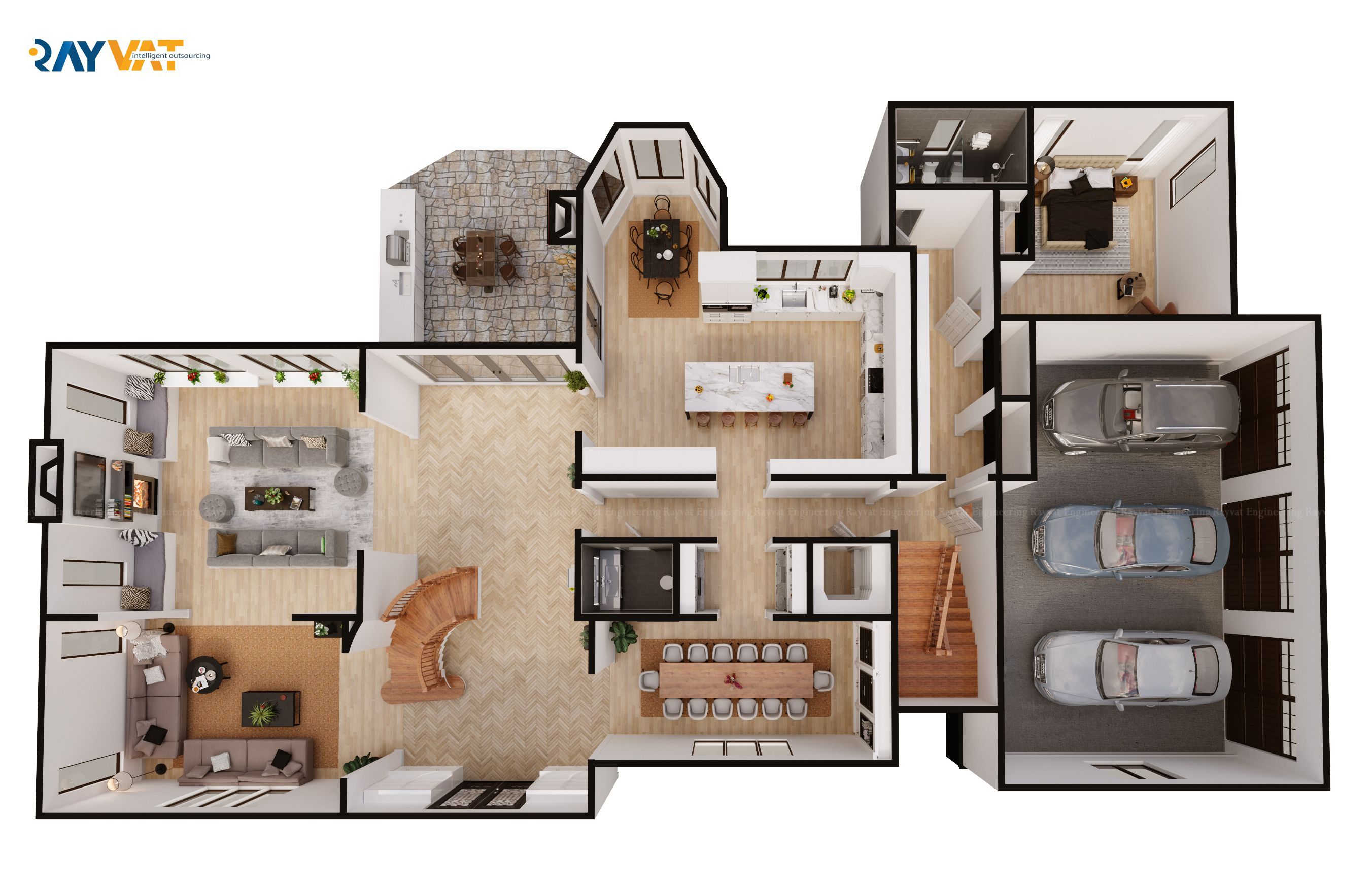 Showcase key features
While photographs do a great job of showing the exterior of the house and the garden, a plan is what draws attention to the overall layout and flow of interior spaces. By getting a good idea of how all the areas work together, buyers will be able to judge whether they want to make a bid for a property or not. If the garden or pool is an essential feature of the property, it can be shown on the plan as well, and realtors can thus highlight key features of the house that will help them to sell it.
Determine floor area easily
When the floor plan is drawn out to scale, buyers can also easily determine the sizes and floor area of the property and will know that they are getting good value for their money. An accurately drawn plan will help to give clarity to unseen properties, helping buyers know what they are investing in. Their chances of buying a property that is listed with a plan are far higher than from other real estate agents who may have listed only photographs and not plans.
How to execute 3D Floor Plans?
Are you looking to sell your property or give it out for rent? If you do not have a floor plan included in your property listing, then you may be missing out on a lot of potential buyers – so do consider including a floor plan when you put your property on the market! If you are looking to create 2D or 3D floor plans that are rich in detail and imagery, get in touch with the team at Rayvat Engineering, and we will help you accentuate your listing success potential.
Why the importance of floor plans in architecture?

The architectural design house plans is one of the most important parts of a home. It helps make your space livable, and it can be the difference between an enjoyable living experience and something that feels cramped. With such a big part in how you live, it's worth taking time to learn about what makes for good design and why it matters.
Additionally, architectural design house plans are essential for regulatory compliance and obtaining necessary approvals. Building codes and regulations often require architects to provide detailed floor plans as part of their submission. These plans help authorities assess important aspects such as fire safety, accessibility, and zoning requirements. By adhering to these regulations, architects can ensure the safety and compliance of the building, protecting both occupants and the surrounding environment.
In summary, house designs plans hold immense importance in architecture for their ability to communicate design ideas, optimize functionality, enhance natural lighting and ventilation, coordinate building systems, and ensure regulatory compliance. They act as a foundation for the entire design process, allowing architects to create spaces that are safe, functional, and aesthetically pleasing.
For inquiries on 3D Floor Plan rendering assistance, please contact us here: CONTACT US